Grover Norquist attempted to tell a simple story on Sunday that illustrates why he hates sales tax, but Twitter provided an alternate ending.
Norquist, a political advocate and founder of Americans for Tax Reform, has been dubbed "the dark wizard of the anti-tax cult." He's worked for decades to roll back taxes and is primarily responsible for the "Taxpayer Protection Pledge," a pledge signed by many Republicans in Congress to not raise taxes.
To illustrate his frustrations with sales tax, Norquist told a story about his daughter trying to buy a guitar, her inability to do so, and why that would turn her into a GOP fan.
How Republicans are born…
Daughter, 8, has been savings up to buy her first Guitar.
Found it for $35. She had 35 exact.
Then…sales tax

— Grover Norquist (@GroverNorquist) June 25, 2017
Twitter wasn't having it.
You know it's going to be a rough ride through the comment section when, as of Monday morning, more than 5,000 people responded vs. just 380 RTs and about 1,100 likes. Here are just a few examples that responders cited directly to Norquist.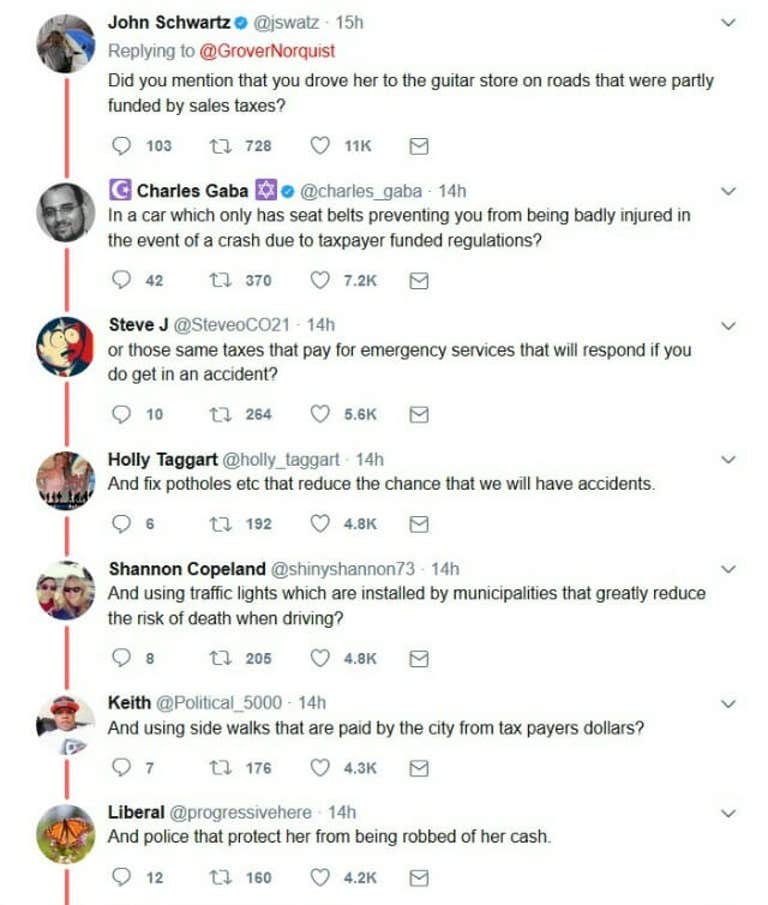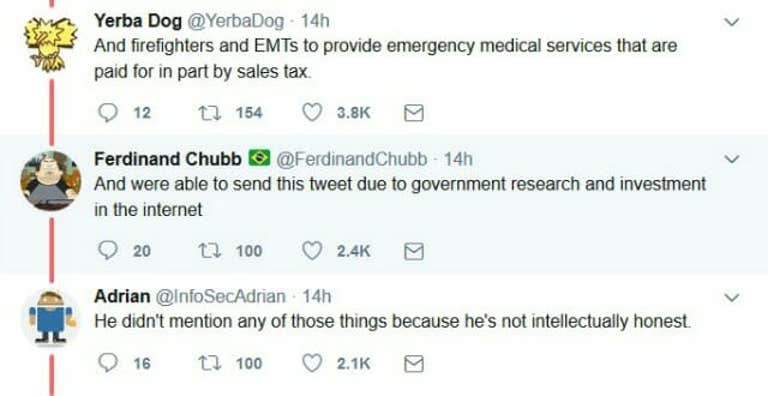 It wasn't just Norquist's spin on sales tax that upset Twitter. It was also his taste in guitars, and how that dirt-cheap price tag indicated an instrument that couldn't have been made in the U.S.
BRO $41 WOULDN'T HAVE DONE IT EITHER.

PLEEZE CONSULT A GUITARIST FOR MORE INFO.

— Eric Garland (@ericgarland) June 25, 2017
Seriously, I will give her my Mexi-Tele with Seymour Duncans and a pro setup if you will stop telling her sales tax ruined this.

— Eric Garland (@ericgarland) June 25, 2017
I'm not fooling. She can have this guitar if you will renounce this argument. https://t.co/4Otv7v3qxu

— Eric Garland (@ericgarland) June 25, 2017
https://twitter.com/asstchief87/status/879187245856505856
Given the regularity of sales tax, some found Norquist's story to be a parenting fail.
You didn't teach your daughter about a fundamental aspect of American life that we see a dozen times a day? Maybe she needs a better parent?

— Pete Forester (@pete_forester) June 26, 2017
https://twitter.com/sethuels/status/879097116714467332
Either way, Grover Norquist's daughter doesn't have a guitar, and whether it's because of sales taxes or because her dad didn't tell her about sales taxes or because her dad wanted her to have this experience so he could wag his finger about sales taxes on social media, she'll have to spend a little more time earning the money to pay for it. Hopefully, she'll find value in that as well.