Monday is the last day of funding for the IndieGoGo project known as the "Gosnell Movie," a film about Philadelphia abortion doctor Kermit Gosnell, who was found guilty last spring of the murdering a baby born during a botched abortion. The case became a flashpoint for both anti-abortion and pro-choice advocates. 
With just hours to go, the filmmakers have already exceeded their fundraising goal—more than $2.1 million pledged. But that hasn't stopped them from taking on a new enemy: Kickstarter.
The premise of the film, which was created by Phelim McAleer, Ann McElhinney and Magda Segieda, is that there is that the Kermit Gosnell story is an untold one, ignored by the mainstream (read: "liberal") media because it contradicts the pro-choice narrative—a claim that was comprehensively dismantled by Irin Carmon over a year ago, when she was still at Salon:
If you've never heard of the Gosnell story, it's not because of a coverup by the liberal mainstream media. It's probably because you failed to pay attention to the copious coverage among pro-choice and feminist journalists, as well as the big news organizations, when the news first broke in 2011. There would be something rich, if it weren't so infuriating, about these (almost uniformly male, as it happens) reporters and commentators scrambling to break open this shocking untold story. You know, the one that was written about here, here and here, to name some disparate sources.
Not to mention, you know, the New York Times.
At the end of April, when the Gosnell Movie hit $1 million in fundraising, a billboard appeared in Greenpoint celebrating the occasion—and accusing Kickstarter of censorship. The billboard is just a few blocks away from Kickstarter HQ, and was paid for by McAleer's Hat Tip Films.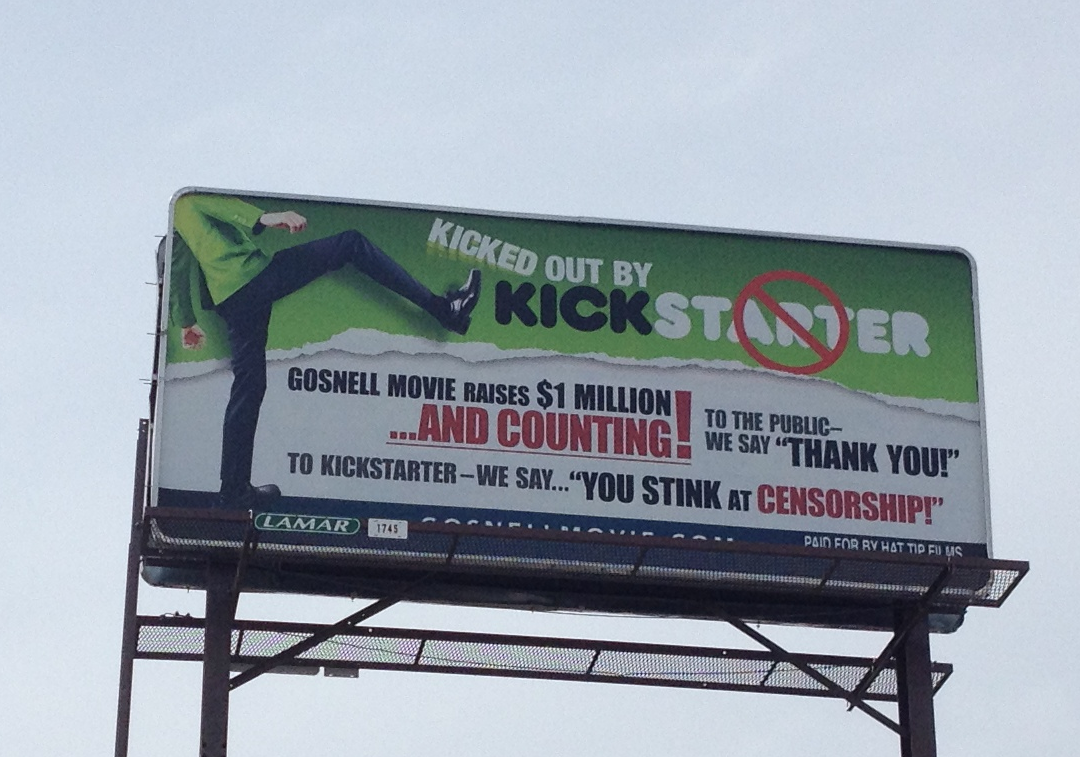 So why is a successful IndieGoGo project accusing Kickstarter of censorship? McAleer, McElhinney, and Segieda's previous film, the anti-environmentalist documentary FrackNation, was funded through Kickstarter and the trio initially applied to Kickstarter to set up a funding project for the Gosnell movie.
After much internal deliberation, Kickstarter accepted the Gosnell application—contingent upon the implementation of some changes to the description of the project, which the Kickstarter team felt, in the words of Kickstarter CEO Yancey Strickler, constituted "both a factual error and a phrase that evoked an incredibly graphic image that felt too strong for a general audience." The phrase Strickler is referring to? "1000s of babies stabbed to death."

The filmmakers defended their phrasing, and Strickler says that Kickstarter "decided to bend our rules and give them the green light to launch at their convenience." The filmmakers subsequently pulled their application, launched on IndieGoGo—and took Kickstarter's suggested copyedits.
"Trying to make this about something it's not, stoking a make-believe fire to incite publicity, and imagining Kickstarter as a partisan battlefield is wrong," Strickler told the National Review. "We exist to support creators and creativity, not a political ideology."
That comment was made before the filmmakers took out a billboard just a few blocks away from Kickstarter HQ. And Kickstarter declined our request to comment.
According to Lamar—the rental company that owns this particular advertising space—his billboard will set you back, at minimum, $3,500. Lamar is not able to disclose pricing for this particular poster in this particular location, however. (Unless the buyer gave them permission, that is.)
The billboard was paid for by Hat Tip Films, of which there is sparse record on the Internet, but which Deadline identifies as being owned by McAleer and which shares the same mailing address as Ann & Phelim Media per Ann McElhinney's response on Facebook to a commenter who asked where he could send money to support the cause.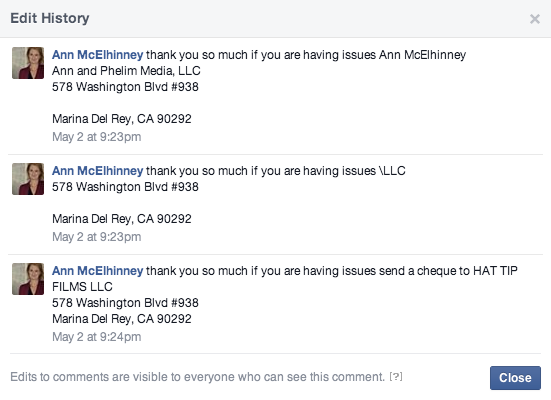 Neither IndieGoGo nor the Gosnell filmmakers have responded to requests for comment.
Having hit their fundraising goal, the filmmakers are now looking to boost their contributor numbers, to which end they say they are "hosting a tweetfest on Twitter." The tweetfest will be happening twice on Monday: Once from 12-2pm EST and again from 8-9pm EST under the hashtag #GosnellMovie. "We want to get it trending!" they say. So, watch out for that.
Correction: An earlier version of this article incorrectly stated that the Lamar billboard cost at least $177,000 for one week. The company says its minimum charge is $3,500, though the cost of the Gosnell billboard is still unknown.
Photo via Nathan Jongewaard/Flickr (CC BY 2.0) | Remix by Jason Reed