A goat, the best animal on the face of the earth, has succeeded in scaring a young woman senseless with no more than a hearty sneeze.
The docile beast in question was enjoying a salty-looking snack—probably a mineral supplement of some kind—when it experienced an irritation in the nasal area. The result shall live in Internet infamy for years, which is approximately how long it'll take you to stop laughing. (When you're done laughing, watch this.)
Yeah, we're going to need a GIF of that.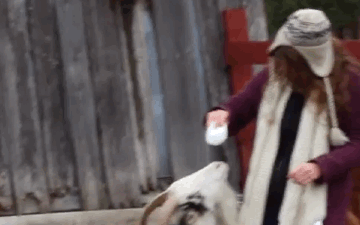 Funny as the freakout is, we ought not to let people frightened of a little goat snot dampen our view of these majestically weird creatures. This is not a world I want to wake up in: 
— Fleetwood Macbook (@methadonna) April 17, 2014