In the long-overdue sexual harassment and assault reckoning that is taking place right now, there are really only two ways to respond to allegations that arise as a man.
Condemn the guilty party; or
Shut the fuck up
Fox News correspondent Geraldo Rivera took a markedly different tack last night after Matt Lauer was ousted at NBC. He not only defended him but dismissed the severity of the allegations by calling news a "flirty" business and claiming courtship is being criminalized.
Sad about @MLauer great guy, highly skilled & empathetic w guests & a real gentleman to my family & me. News is a flirty business & it seems like current epidemic of #SexHarassmentAllegations may be criminalizing courtship & conflating it w predation. What about #GarrisonKeillor?

— Geraldo Rivera (@GeraldoRivera) November 29, 2017
Now, there are almost too many things wrong with that tweet to truly, properly dissect everything terrible about it, but let's start here: Maybe don't try to defend a serial sexual harasser/abuser when you yourself may have a number of skeletons in your own closet.
WATCH: @BetteMidler to Barbara Walters in an interview over 20 years ago. She says @GeraldoRivera and his producer shoved her into her bathroom, stuck poppers under her nose, and proceeded to grope her. pic.twitter.com/Ax1MJwrP69

— Yashar Ali 🐘 (@yashar) November 29, 2017
Twitter was happy to blast Geraldo for his tweet, making clear that news is not a "flirty business."
https://twitter.com/talkwordy/status/935981483499708418
And pulling your penis out in front of subordinates is not "flirting."
"Hey, did it hurt when you fell from heaven?" At a bar is flirting.

Whipping your penis out in front of a co-worker is not.

I don't know how to make this any clearer for guys. https://t.co/2SvfBuTvIS

— Jennifer Wright (@JenAshleyWright) November 29, 2017
And sending a co-worker a sex toy is not "flirting."
Excuse me, Geraldo, dropping one's pants and sending a co-worker a sex toy is not courtship. https://t.co/ue5qnzCkVJ

— Caitlin Huey-Burns (@CHueyBurns) November 29, 2017
And also his concept of courtship is probably steeped in patriarchal attitude that treats women as sex objects.
Or. Hear me out here Geraldo…

What has passed for "courtship" in much of American history has actually been men imposing their unsolicited desires and body parts on women who have tolerated it as a survival mechanism but with the strength of numbers, are ceasing to do so. https://t.co/4pR8Xoncz5

— 5'7" Black Male (@absurdistwords) November 29, 2017
https://twitter.com/bourreelam/status/935986927190401025
And then there's bit about Matt Lauer installing a lock on his door that he could activate from his desk, basically turning it into a sex dungeon.
https://twitter.com/dogboner/status/935979160392159232
And again, the whole Matt Lauer-sex dungeon thing.
Not sure having a remote door lock button on your office sex dungeon counts as "flirting" or "courtship" but you're the media professionalhttps://t.co/T6fi2qWed2

— David Burge (@iowahawkblog) November 29, 2017
But really, the whole Matt Lauer-sex dungeon thing, which is, again, neither "courtship" nor "flirting," but actually the  definition of "predation."
https://twitter.com/di_plora/status/936003670252179456
Anyway, here's Geraldo on the cover of Playgirl magazine.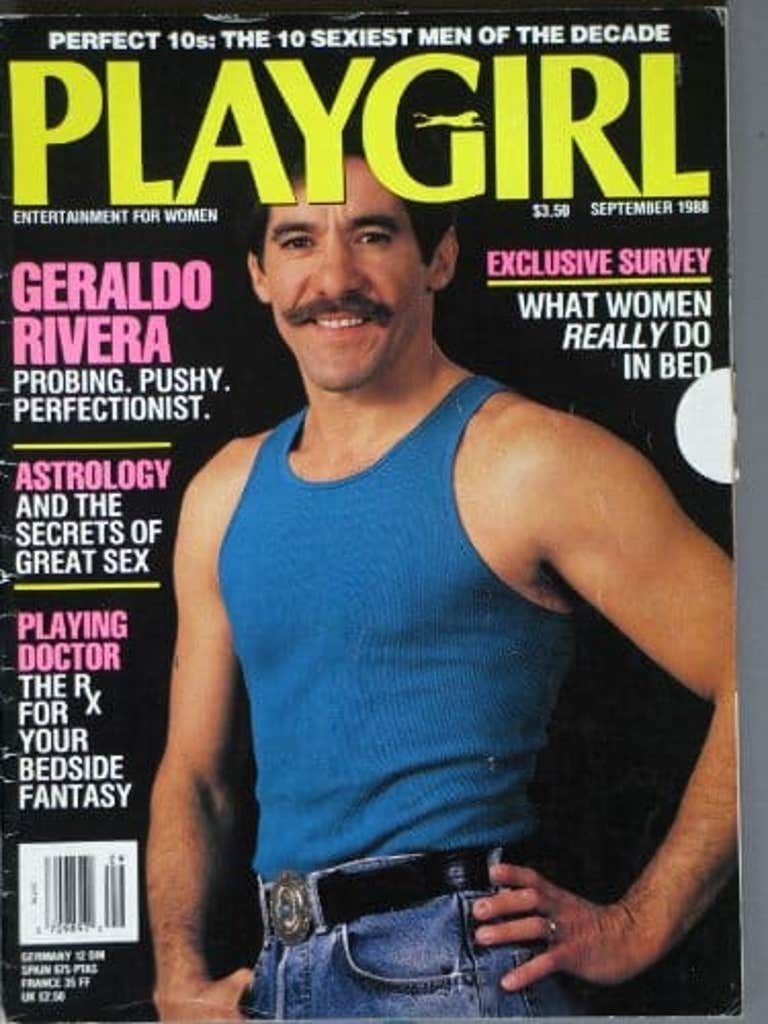 Just in case you needed more proof that news is not a flirty business.