Remember the days when coming out was such a "big deal" that it was of magazine cover importance? After Ellen DeGeneres came out to People in 1997, the magazine's cover became advertising space for celebrities who wanted to announce that they were here and queer. But since Lance Bass's 2006 cover, disclosure has become increasingly low-profile.
Former Disney star Raven-Symone and Kyle XY's Matt Dallas addressed the issue non-chalantly on Twitter, and hot on the heels of his team's March Madness run, University of Massachusetts' Derrick Gordon came out this week via Instagram.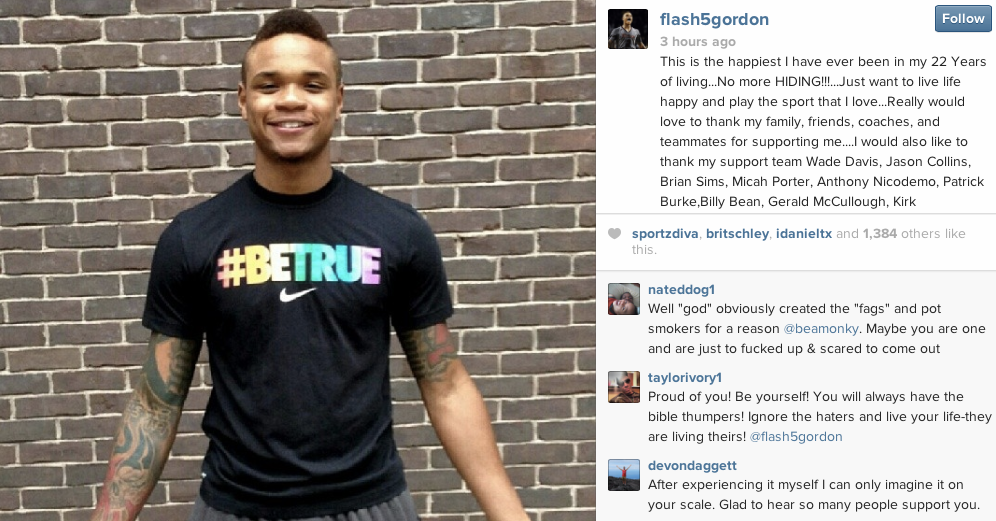 Gordon's admission was so warmly unapologetic that the casual viewer might not even notice that he just made history, becoming the first out Division I player. If Gordon is drafted to the NBA, he will become the first player to be openly gay his entire NBA career.
This big news follows in the wake of Michael Sam and Jason Collins, both of whom have come out in the past year. Collins' story appeared in the May 6 issue of Sports Illustrated, in which the current Brooklyn Nets center told the magazine, "I'm a 34-year-old NBA center. I'm black. And I'm gay."
Despite the historic nature of his admission, critics doubted whether Collins would have much on an impact. He's an aging player who would see little (if any) time on the floor for the rest of his career. In fact, it took months for him to even get picked up from free agency. It wasn't like he was LeBron James. Collins is an obscure player that most Americans—even devoted NBA fans—had never heard of before. He's a journeyman, and to some, Collins' historic move just looked like a PR stunt.
However, Jason Collins' profound influence can be felt in the last year, as his bravery made it easier for other celebrities and athletes to be out. Although Michael Sam had been out to his teammates, it's unlikely that the Mizzou defensive end would have had the courage to jeopardize his draft prospects with such a risky move.
Playing football is about having a job first, but Collins' statement was a reminder how important the intersections of sports and identity are. Sam is a football star, black and gay—and that doesn't just matter on the field. It matters to all of us.
Juno actress Ellen Page isn't the first person one would expect to be paying attention to football. Page is a Canadian waif who made her name on the indie circuit, the girl who loves her hamburger phone and hates Goldfrapp. But Page cited Sam in her February coming out speech, calling him a "hero."
After Page came out, Time's Brandon Ambrosino asked if coming out was really all that brave these days, as society receives news like Page's with a mixture of applause and a polite shrug. (Was anyone surprised?) But of all the responses to her speech, Tegan and Sara hit the nail on the head. In a tweet to Page, the singers wrote, "Never underestimate the courage it takes to be yourself."
Never underestimate the courage it takes to be yourself. Giant hugs to @EllenPage

— Tegan and Sara (@teganandsara) February 15, 2014
But the bravery of Michael Sam, Ellen Page, and Derrick Gordon isn't for themselves. In a year brimming with coming outs, it's unlikely that history will remember Gordon's name in the same way that Jackie Robinson's is today. That might sound like a dig, but it's the best possible sign for the future of the NBA and society as a whole.
After Sam came out earlier this year, insiders wrung their hands about what it means for any team that picks him up, some calling his sexuality a "distraction." Professional sports leagues won't be able to say that when Sam isn't the only gay player on the field, just one of the many gay players in the league. One day, he might even share a locker room with another gay player. It's not a distraction if gay players are all around you.
Gordon's news didn't make the kinds of headlines that Collins' and Sam's did; it's just a footnote on CNN and ESPN's websites. According to Sports Illustrated, this shows how much the door is opening for gay athletes.
"Gordon's announcement is not as big a deal as Sam's, which wasn't as big a deal as Collins," Sports Illustrated's Jon Wertheim writes. "The same way the Brittney Griner's announcement last year was not the cause celebre that Sheryl Swoopes' announcement was in 2005. The cycle perpetuates and, as we become increasingly comfortable. This is how progress rolls."
But it's not just about progress. It's that so many gays are coming out that they're getting hard to keep up with. It seems that almost very week this year, someone new has come out, from a Game of Thrones actor to Tom Daley (for the second time). Wertheim calls it a "club," but I call it the gay tipping point—when gay people cross the threshold of visibility.
One day, we won't be talking about the first openly gay Division I player. We'll be welcoming the 423rd gay member into the club. Derrick Gordon's announcement might not seem like a little thing to a culture that's becoming used to it, but for #423, Gordon will make a big difference. He made it possible to exist.
Photos by flash5gordon/Instagram | Illustration by Jason Reed