After centuries of excess and exposure, France is finally exercising some modesty—at least when it comes to the location of its intelligence agencies.
The headquarters for France's Directorate-General for External Security (DGSE) has been added to the list of censored Google Maps locations after the agency came under scrutiny for monitoring the Internet and phone activity of French citizens.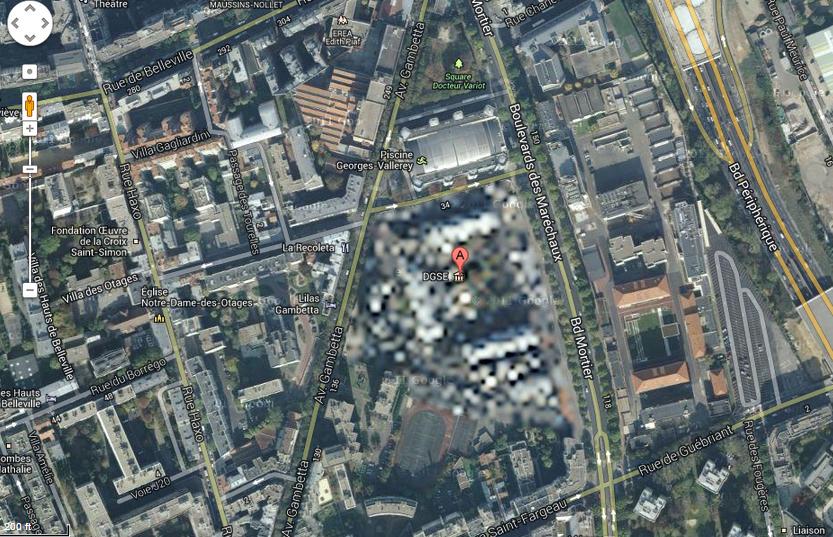 The clandestine operation has been compared to the National Security Agency's PRISM program. 
PRISM has worked with tech companies like Google, Facebook, and Microsoft to collect Internet data (such as email exchanges, instant messages, and file uploads) on Americans for the past six years. The details of the program were leaked by former NSA employee Edward Snowden to the Guardian and Washington Post. Since these news organization broke the news on PRISM in mid-June, Snowden has been charged with espionage and theft of government property by the U.S. His current whereabouts are unknown.
The details surrounding France's version of PRISM—commonly called "Big Brother"—are sparse. According to France's Le Monde, the government has sunk €600 million ($774.5 million US) into the program, which employs about 5,000 people. 
"[T]he Directorate General for External Security (DGSE) systematically collect electromagnetic signals from computers or phones in France, as well as flows between French and abroad," Le Monde reported, according to a Google translation. "All e-mails, text messages, telephone records, access to Facebook, Twitter, are then stored for years."
The headquarters for the DGSE is located on the outskirts of Paris, about 10 miles from the Eiffel Tower. 
Since Google launched its powerful Maps application in 2005, satellite and Street View images of dozens of military outposts, airports, political landmarks, and entire countries have been censored. While many, including the White House, have since been revealed to the world, others, like Buffalo's Niagara International Airport, remain obscured.
"[Google] does this using a handful of handy visual tricks—like pixelating, overexposing and cloning the imagery," Motherboard reported. "Other times, governments will opt to show out of date or really low-res images, so as to not draw attention to the location, but also hide the details from would-be terrorists."
While the DGSE may be a bit shy to show off its headquarters, the NSA has no problem allowing people to zoom in on its Fort Meade compound.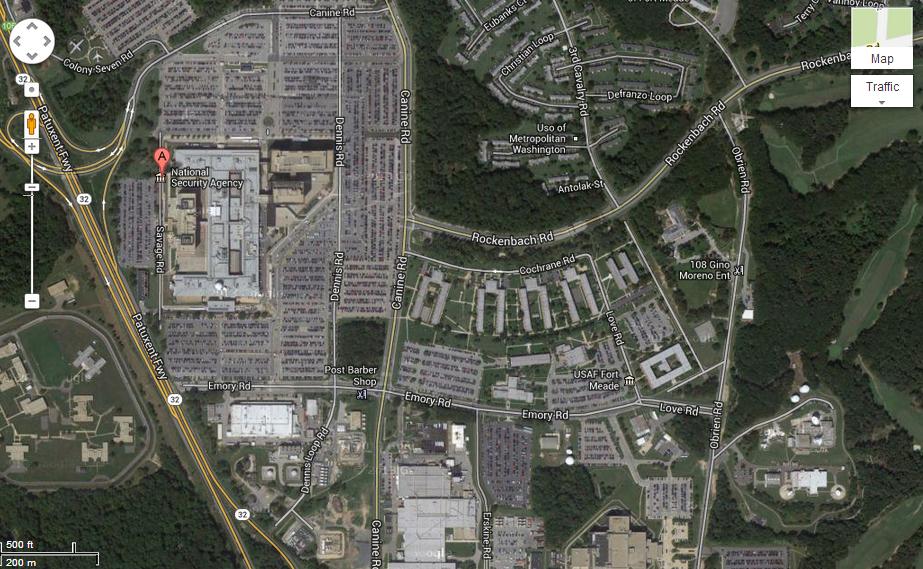 H/T Motherboard | Photo by ostromentsky/Flickr