Not a lot of people are wishing Justin Timberlake a good morning after the debut of Framing Britney Spears.
The documentary, which debuted on Hulu over the weekend, explores Spears' conservatorship and the Free Britney movement that grew around it. But it also zooms in on the media's toxic role in framing Spears as unstable in the early aughts, and shows how Timberlake contributed to that narrative: A 2001 Details cover that snarks about Timberlake getting "into Britney's pants"; Diane Sawyer asking Spears during a 2003 interview what she did to break Timberlake's heart, after his hit "Cry Me a River" painted her as a cheater; Timberlake yukking it up on a radio show and admitting he slept with Spears, as she fields questions about her virginity.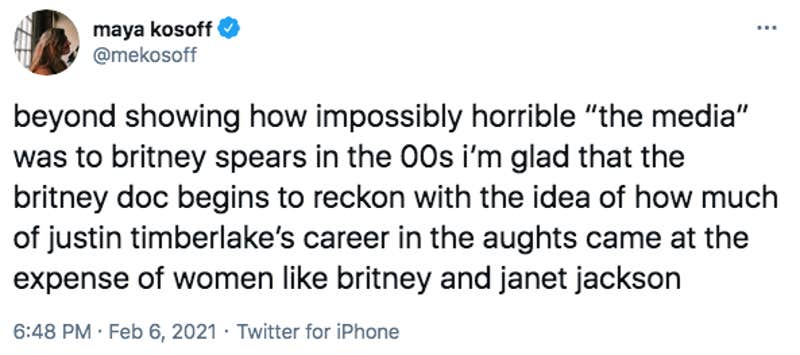 It's probably no coincidence that Framing Britney Spears debuted during Super Bowl weekend: It also reminded a lot of people that Janet Jackson's reputation suffered after the 2004 Super Bowl "wardrobe malfunction," while Timberlake went on to have a successful career.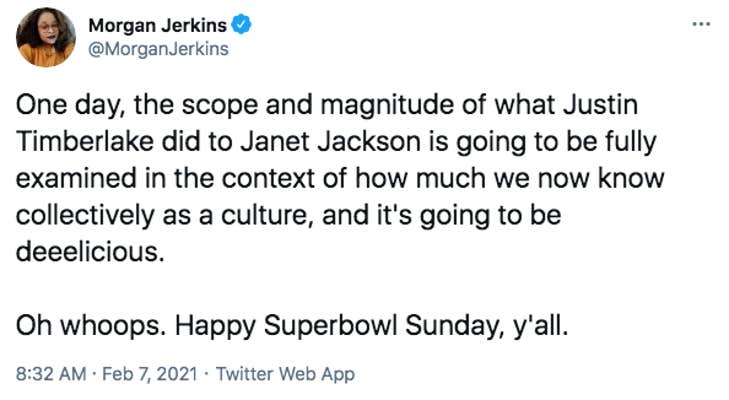 The documentary was elevated by celebs like Sarah Jessica Parker and Bette Midler, who both tweeted #FreeBritney over the weekend. Miley Cyrus gave Spears a shoutout during her Super Bowl performance. And while there's a note at the end stating that Spears was contacted "directly" to participate in the film, there's of course a theory circulating that she was a little more involved. Fans made a connection between "Project Rose," which Spears hinted at last year on Instagram, and the rose theme of the documentary.