Last June, in the wake of his sister's suicide, Eric Lim didn't know how to deal with the fallout: the broken pieces, the confusion, and lingering regret. He tried to write her a letter, something to try and put his thoughts in order.
"Dear Tanya," he reads in a YouTube video, "The Forge," the pain still present in his voice. "I love you. I wish I could have told you that it'd be OK and that you didn't have to be alone, because we all get knocked down. We all face bad things. I wish I could have told you to fight through it."
As Lim delivers his spoken message, the viewer also gets a strong visual to underscore the the message of "The Forge." Amidst a hellish backdrop of fire and molten rock, we see him battling a demonic creature, representing the pain and trauma life throws at all of us.
"I didn't tell you what I should have, so I'll tell everyone else. So that one tragedy to one person can forge a message that can do a lot of good for a lot of people. Stand your ground. See the hits for what they really are: a blacksmith, who through fire and trauma can turn the broken into the amazing. Something that just doesn't take the hits, but hits back."
"The Forge" is Lim's own attempt to create something meaningful from a difficult personal circumstance. The powerful four-minute video, released through SoulPancake, was financed by the money his late sister Tanya left behind and aims help others still battling the same issues.
"She was just this amazing person who everyone loved," Lim told the Daily Dot. "She moved around a lot and all these people who met her seemed touched by her."
Tanya's suicide took all her friends and family by surprise. Lim was particularly devastated. He grew up idolizing his older sister. Her travels around the world and the impact she had on others helped give him the courage to pursue his own interest in filmmaking.
"You have no idea what it meant to see my sister out there taking chances and seizing the moment," Lim said
The central metaphor for the film—that rocks and discarded scrap metal could, through the trauma of heat and force, be turned into something beautiful—came from Lim's collaborator, filmmaker Stephen Reedy. As a young man, Reedy worked in a metal shop using an actual forge.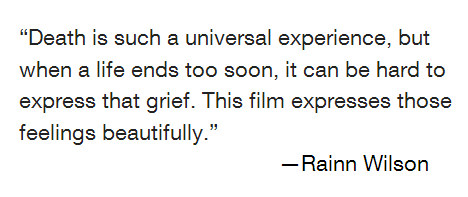 "I remembered doing this work and thought, it's such a great metaphor for life," Reedy said.
With such an intense emotional underpinning, Reedy and Lim were determined to see this project through to the end, even as they and the rest of the video's core creative team continued to work regular jobs during the week. Although the video only required two-and-a-half days of principal photography, the entire project took nearly a year of working nights and weekends.
"This was a purely artistic endeavor on everyone's part," Reedy said. "And in Hollywood that's rarely the case that you get to work on a project like that."
The filmmakers reached out to SoulPancake, the YouTube channel created by The Office star Rainn Wilson, whose mission is  present art, culture, and humor that will "open your mind, challenge your friends and feel damn good."
"The entire SoulPancake family was moved by Eric Lim's story and his love for his sister," Wilson said in an email to The Daily Dot. "Death is such a universal experience, but when a life ends too soon, it can be hard to express that grief. This film expresses those feelings beautifully."
Since its launch Wednesday, the video has already attracted more than 170,000 views. But the creators say the number of views matter less than the impact it's having on those watching. The comments left on the video reveal a number of viewers who have felt a deep connection.
"This made? me cry, but it really is helping me understand. Thank you. You just saved a life," wrote YouTube user YellowDaisyMadeline.
Such comments, along with emails that have already been received, give Lim and Reedy hope that Tayna's death can help prevent others from taking their own life, to see the potential in their own pieces of scrap metal.
"That's why we did this," Reedy said. "We wanted people to know they are not alone in this. These are battles everyone struggles with at one point."
Photos via SoulPancake/YouTube