Harry Styles was spotted flying over the water near the coast of Scotland, dangling from a helicopter. The former One Directioner was filming the music video for "Sign of the Times," his new single, which drops later this week. But forget the context because the internet is having a field day with flyin' Styles. Yer a wizard, Harry!
Harry Styles and the Chamber Of Secrets (2002) pic.twitter.com/dSX6wTwnVT

— ella (@IondoncalIing) April 4, 2017
Styles is getting clowned with comparisons to all kinds of flying characters in pop culture, from Mary Poppins to Spongebob Squarepants: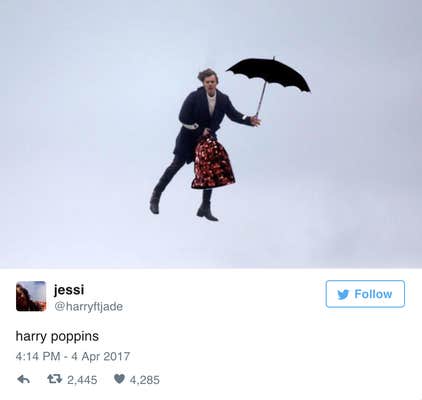 https://twitter.com/hulkyhoran/status/849433424419074049?ref_src=twsrc%5Etfw&ref_url=http%3A%2F%2Ftime.com%2F4726630%2Fharry-styles-flying-meme%2F
spot the difference @Harry_Styles pic.twitter.com/sCMVUF3MIF

— salmon cannon (@oliviasedran) April 4, 2017
The Dark Knight Rises (2012) pic.twitter.com/OXBjfpYFy8

— brian feldman (@bafeldman) April 4, 2017
Some have also compared him to this very good dog:
https://twitter.com/rosedhes/status/849601590394634242
And you can get your exclusive Harry Styles keychains and teabags here: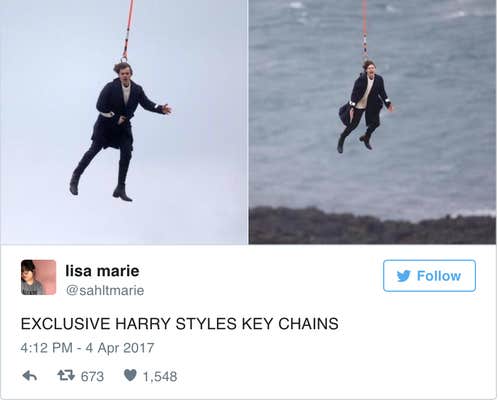 Merch ideas @Harry_Styles, I would totally buy this tbh https://t.co/3bdUH5NqJ9

— 1D Adult Fans (@1DAdultFan) April 5, 2017
One Direction fans have always been extremely active online, and Directioner Twitter loves this meme. Folks with Larry Stylinson-themed Twitter handles are sharing Flying Harry photos like crazy.
https://twitter.com/jornalarry/status/849365842148110336
Truly, the hype for Harry's new career as a superspy is real.
https://twitter.com/BestDailyHarry/status/849469750069661699?ref_src=twsrc%5Etfw&ref_url=https%3A%2F%2Fwww.bustle.com%2Fp%2Fmemes-of-harry-styles-flying-through-the-air-will-make-you-literally-lol-49336
Everyone loves Harry flying, but they're a little disturbed by his stunt double, who wore a less-than-lifelike Halloween mask of Harry's face. Get a load of Michael Myers from Halloween, here:
https://twitter.com/pezlarrie/status/849713451052158978
https://twitter.com/jinminology/status/849810820716404736
https://twitter.com/FionaAdorno/status/849953786596433921
Michael Myers is shook pic.twitter.com/TDmawBvkR7

— Glennnah (@MightyBooshank) April 5, 2017
Not exactly the heartthrob you remember from One Direction, eh?
http://guccikink.tumblr.com/post/159208982953#notes
Fair play to Harry for flying on the close-up shots, though, even if he doesn't do his own stunts.