Want to get popular on Pinterest? Willing to go to any unsavory means to do it? You need look no further than Fiverr, TotalPinterest reported.
Fiverr is a sort of online equivalent to the Dollar Store—it's a commerce website that lets people sell any product and service for $5.
At fiverr.com, you can select from hundreds of rule-breaking ways to grow your Pinterest following. From backlinks to botting software to SEO manipulation, it's all there. Just run a search for "Pinterest."
For example, Fiverr user pinmaster offers this: "I will create you a board with 5 of your website links on 100 Pinterest accounts to blast your SEO google for $5." One hundred different Pinterest accounts is a lot to manually maintain. It's likely he's using robotic scripts, a violation of Pinterest's terms, which prohibit using Pinterest for commercial purposes.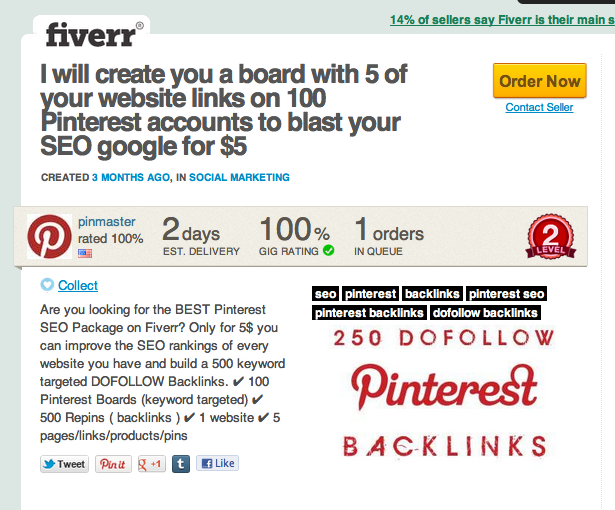 Another shady listing comes from user Twitter___king: "I will instantly Add 1000 Pinterest Likes, 1000 Repins and 550 Followers No Need Password for $5." Since 1000s of real Pinterest users do not work "instantly," we'd guess there's some automation going on here. One of this user's other offerings, which promise to get you 23,000 "real looking" new Twitter followers, sounds even less legitimate.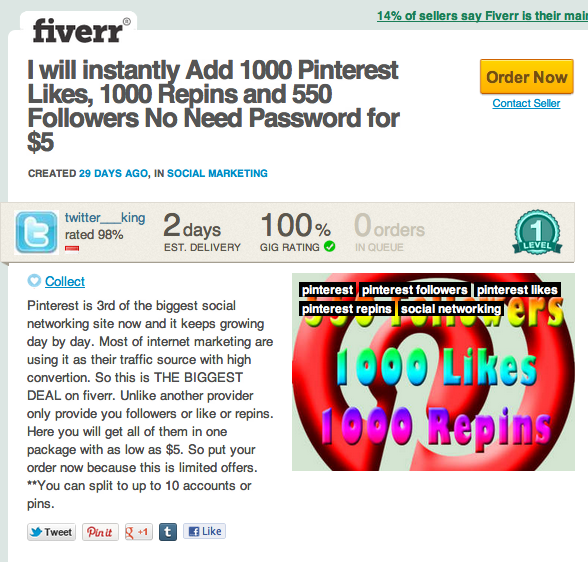 Luckily, you'll be in good company as you break Pinterest's terms of service. More than 1,000 people have already purchased and positively reviewed a Pinterest SEO blast from Fiverr user pinterest. Popularity, however, doesn't change Pinterest's TOS.
Pinterest representatives were not available for comment on the fiverr offerings at press time.
Photo by rychlepozicky.com