Facebook is once again tinkering with its "pay to message" feature.
In addition to partially rolling out the service in the United Kingdom— roughly 10 percent of all U.K. users will have it— the company confirmed to the Daily Dot that they had changed how much they are charging users to message someone who's not connected to them via a mutual friend.
Dubbed the "Inbox delivery test," the service was first introduced in December 2012. Initially, Facebook imposed a $1 fee to deliver a message to a person's inbox instead of their "other" pile, the company's version of a spam filter.
But now, Facebook has increased that figure to as much as $15.
"This is the price you will see for people who have a certain number of followers or more," a company representative told us via email.
How does Facebook determine which individuals get that $15 price tag? It's hard to say. We reached out to the social network asking that very question, but a company representative has yet to reply.
That left us with one alternative: trial and error. We looked up multiple famous people on Facebook in search of someone we'd have to pay $15 to message. But finding a celeb covered by the new fee was harder than we expected.
The first name on our list was Vin Diesel. Despite Diesel's  40 million fans on the social network, Facebook didn't charge us anything to send him a message.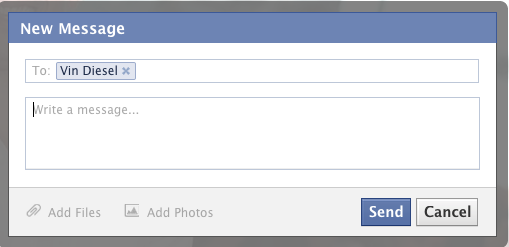 That was also the case with his Fast Five co-star Dwayne "The Rock" Johnson. Having 8.9 million followers isn't enough to merit the $15 fee, apparently.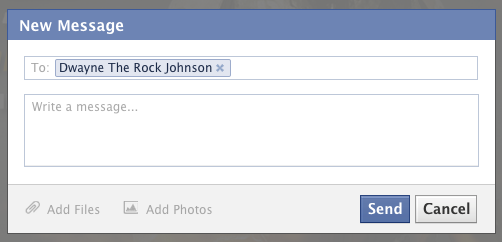 Also not making the cut is Neil deGrasse Tyson (230,778 likes), the Internet's favorite astronomer.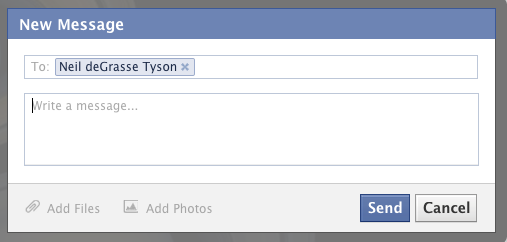 What about politicians? Would Facebook charge you to message Newark, N.J., mayor Cory Booker (140,096 likes)? Nope.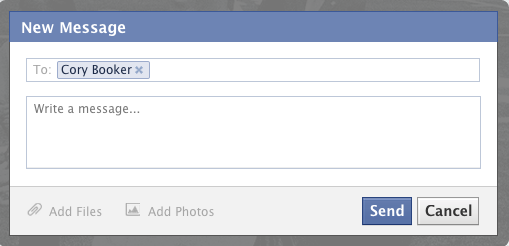 Finally, after looking up multiple famous people, we came across three names that Facebook was charging $15 to message: British novelist Salman Rushdie, Netflix CEO Reed Hastings, and frat-bro comedian Dane Cook: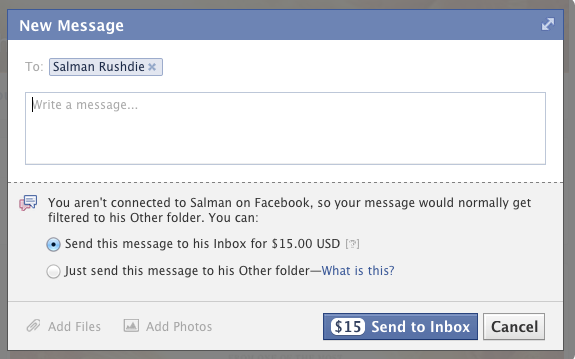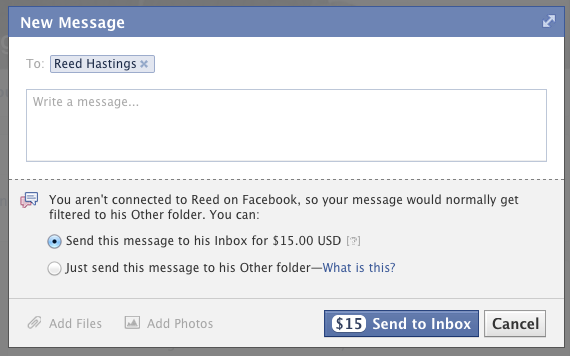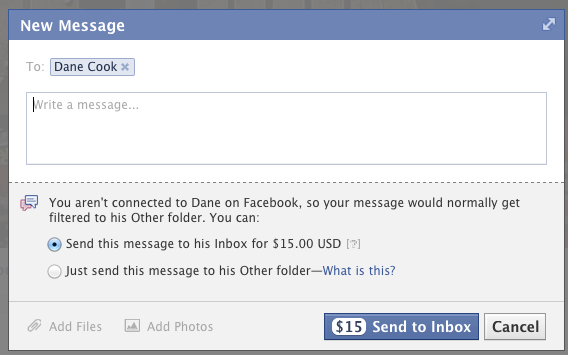 Curiously, Facebook wouldn't disclose how many people were in Rushdie's network of friends, most likely because we had stumbled upon his personal account instead of his public page.
But Facebook doesn't appear to make a distinction between private and public profiles when it comes to imposing the $15 fee. Hastings and Cook's public accounts were both in the pay-to-message club.
Another interesting discovery we made was that Facebook may allow some users, and not others, to pay up and message someone famous. In his piece on this very topic, Buzzfeed's Justin Sharrock reported that it would have cost him $15 to message Calvin Broadus, better known as Snoop Lion (né Dogg). We weren't afforded that opportunity when we tried to do the same thing. Instead, the Facebook window instructed us that our message would go directly to Snoop's "other" folder.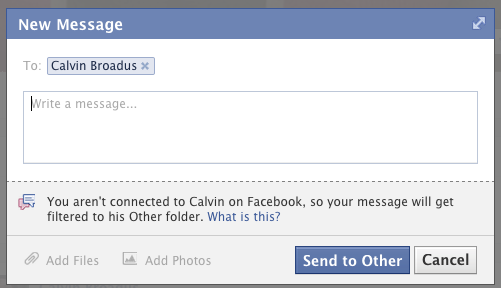 So, what did we learn? That there appears to be no rhyme or reason to the way Facebook determines which celebrity inbox you can buy your way into.
Photo via Jason Persse/Flickr