Man finds girls. Girls find guy. Girls tell guy that they want to f**k him in a van for a porno. 
Guy joins van. Man asks guy questions. Girls grab camera. Dudes take their place. Dudes tell guy that it's time for all three to disrobe on the bench seat.
It's the oldest trick in the book: the ol' porno swap job, and Los Angeles real-life troll master Steve Greene is officially an expert at it. 
Along with porn stars Tara Lynn Foxx and Layton Benton, the longtime YouTube pest has found a new way to mess with civilians' emotions. "Bang Bus Prank!" is the latest in his four-year run of messing with as many heads as Steve Greene can make possible. 
The two girls come across this guy somewhere along the boardwalk.
And don't need much to get him back to the "video shoot." 
They interview him, get his name, job, and information, then comedy ensues—and we start to feel bad for him.
Remember this face, dudes.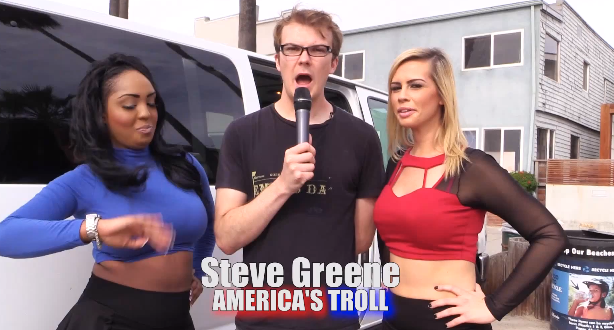 If he asks you if you want to be in a porno with two extroverts, ask to see his business card first.
Photos via Steve Greene Comedy/YouTube