The Free Application for Federal Student Aid, or FAFSA, is a gateway to most forms of institutional support for prospective college students. It's not, as you might imagine, something that needs to mess with memes—especially those that insult people the form is meant to help.
Nevertheless, the @FAFSA Twitter account yesterday invited contempt with the use of a (not even especially timely) image macro. The screengrab comes from a scene from Bridesmaids in which a drunk Kristen Wiig begs to stay in first class even though she could never afford it.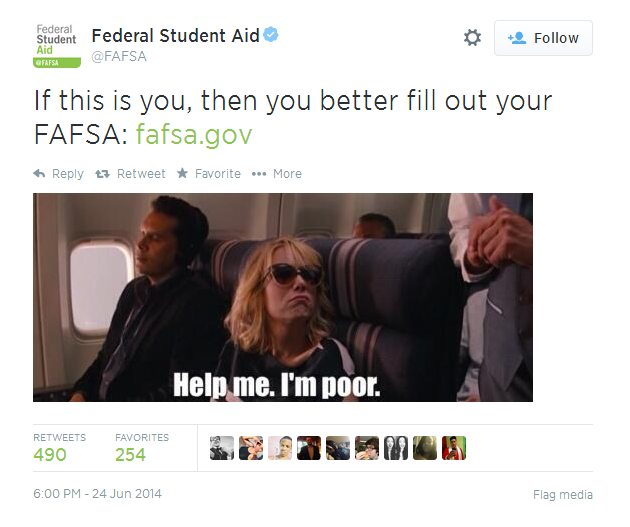 A wave of indignation over the tweet—drowning out calls for everyone to "chill" and think twice before attacking the U.S. Department of Education for attempting to connect with millennials via their preferred mode of humor—coincided with a raging argument as to whether the student loan debt crisis is as bad, or in fact worse, than we thought. Deletions and apologies soon followed.
We apologize for the insensitivity of our previous tweet. Our goal is to make college a reality for all. We're very sorry.

— Federal Student Aid (@FAFSA) June 25, 2014
This mea culpa, along with spokeswoman Dorie Nolt's promise to Inside Higher Ed that the department would review their "process for approving social media content to ensure it reflects the high standards we expect," set off still more Twitter spats about the importance of knowing one's audience, keeping online engagement playful, and generally "oversensitive" types.  
In other words, we managed to have a big fight about the problem of paying for higher education that touched on everything but how much it actually costs to go to college. Good job, Internet! 
Photo by Tobias Leeger/Flickr (CC BY-NC-ND 2.0)