Are you French? Do you have Facebook? Have you been sharing posts that say the social network is shutting down for maintenance from Feb. 29 to Feb. 31? Please stop. Those days don't exist. You've fallen victim to a pretty obvious hoax.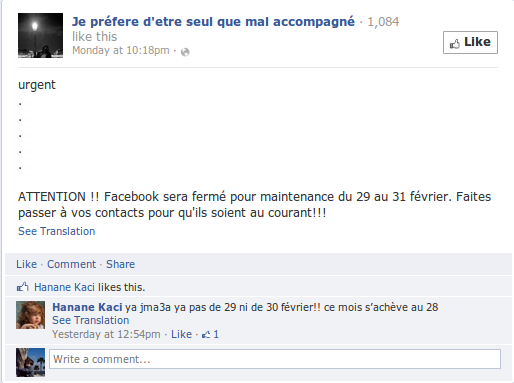 The message, written in French, has been spreading across Facebook since yesterday, according to a post on security firm Sophos's Naked Security blog. The message has also crossed the language border after an English version also popped up:
WARNING!! Facebook will be closed for maintenance from February 29th to 31st!! Facebook wants YOU to Share this message with at least 15 of your friends for the best chance of alerting everyone. Many people will try to log in from February 29 to 31, just to find the site closed down for those days with no warning.
You can watch it flow in real time at Bing's social search. But no worries. Sharing the hoax won't compromise your account or cause you another trouble, other than a slight annoyance. So far, there's no evidence Facebook plans to shut down on those three nonexistent days. 
And if it did, would anyone even notice?
Photo by claytron/Flickr