Facebook, in its infinite wisdom, has opted not to remove a page for a red light district in India. The page contains explicit photos and prostitutes that appear to be children.
The reason? The page does not violate the community's statement of rights and responsibilities.
Liz Boltz Ranfeld, a writer and English teacher, stumbled across the page for the red light district of Sonagachi in Kolkata, India, while researching sex work in the city she recently returned from. 
The page (NSFW) depicts many young women, and Ranfeld suggested many are likely underage sex workers and victims of human trafficking. She noted that some of the photo galleries show children, the page has advertised women for sex in the last couple of days, and there is a graphic photo album showing a young woman's virginity being taken.
There are young (clothed) children in the photo albums; a five-photo album of a bloody virginity loss does in fact exist. The page hasn't been updated since November, but commenters do post ads for prostitutes: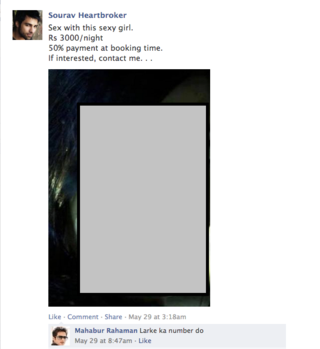 Screengrab via Jezebel
Men freely share their contact information, ask for advice on how to solicit prostitutes in Sonagachi, and even request directions to the area.
The page's description was lifted directly from Wikipedia, and leaves visitors in no doubt as to what it is about:
"Sonagachi is the largest red-light district in Kolkata, India and one of the largest in Asia. It is an area with several hundred multi-story brothels and [an] estimated 11,000 sex workers."
Facebook told Ranfeld, Jezebel's Slay Belle, and others that it could not confirm that the page violates the community standards.
That's bulls**t. 
In the Statement of Rights and Responsibilities, Facebook explicitly prohibits "content that is hateful, threatening, pornographic, or that contains nudity or graphic or gratuitous violence."
Furthermore, Facebook's community standards state, "Facebook has a strict policy against the sharing of pornographic content and any explicitly sexual content where a minor is involved. We also impose limitations on the display of nudity."
There's every chance one of Facebook's content moderators failed to skip past the first few photos. Further down the page, a woman can be seen performing oral sex. If that doesn't go against the Statement of Rights and Responsibilities and community standards, I don't know what will, except for maybe breastfeeding photos, nude protestors calling out the company's Draconian nudity stance, and someone's elbow.
The page was unearthed just days after Facebook admitted it needs to better handle misogynist and hate speech. But it took several companies pulling their ad dollars for a simple response.
Update: After we and Jezebel ran separate articles on the Sonagachi page, the link now appears to be down. In a more recent post, Ranfeld and Slay Belle questioned why it sometimes takes media coverage for Facebook to act in cases where its own standards have been clearly violated.
 
Photo via Sonagachi/Facebook