The next time you receive an email that says you've been tagged in a Facebook photo, check your curiosity about the photo. You might have just received an email with a malware attached to it.
The latest trojan virus to hit the Web poses as Facebook in a new email scam sent to many users of the social network, the Sophos Naked Security blog reported.
The email will have the subject "Your friend added a new photo with you to the album" and will encourage you to view the "tagged" photo as an attachment.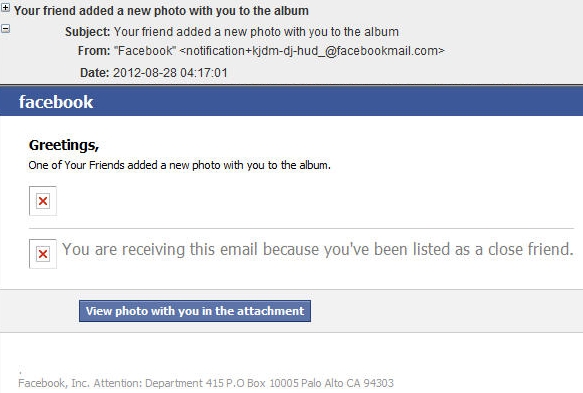 Screengrab via Sophos
However, the link  is actually a .zip file that contains the malware Troj/Agent-XXN, which will allow hackers to access your computer. So far it only affects computers that run on Windows.
Another recent Facebook email scam involved photo tag notifications, but it led to malicious iFrame script.
For the record, tagged photos on Facebook don't show up as attachments in emails. If you do receive photo notification emails or are photo-obsessed, be careful and compare it with past ones to see if there's anything out of the ordinary. Also check for incorrect spelling in the email address. If anything seems "off" about the email, don't click on anything.
And if you're not sure, just check Facebook to see if you have any notifications.
Photo via west.m/Flickr