Every day, the Daily Dot finds something that people on Facebook are sharing and, in turn, shares it with you—with a little explanation. Here's today's share.
Pods of dolphins are cute. Schools of fish are pretty. But a herd of devil rays is downright disturbing.
No matter though, as more than 7,000 people have shared a picture of a large herd of Munk's devil rays swimming off Mexico's Baja California coast. The picture was posted Wednesday by Ocean Story, a nonprofit organization devoted to educating people about oceans.
Ocean Story explained that the award-winning picture was shot in 2009 in the Sea of Cortez by German photographer Florian Schulz. He was searching for migrating whales but caught this surprisingly large group of rays instead.
"I was able to show how these rays are jumping out of the water," he said, "and at the same time I'm able to show—almost like an underwater photograph—how there're layers and layers and layers of rays."
Many of the multilingual comments, which clock in at 1,700 and growing, remarked how interesting the photo was. A lot of people simply wrote "wow!" and "amazing!"
One commenter wrote what many people are thinking, though: "that's scary. imagine if you are swimming there and in their way… #death."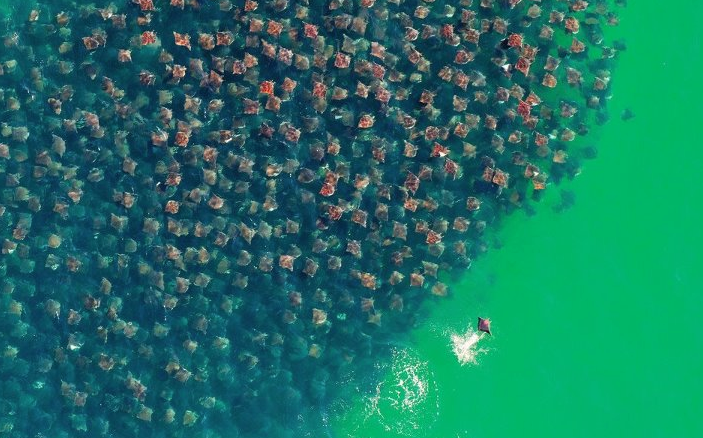 Photo via Facebook