Getting tired of all the image macros flooding your Facebook newsfeed? Well, thank your lucky stars, because you're about to get even more of them. 
Facebook engineer Bob Baldwin revealed Facebook users can now add photos to comments, and they'll show up in-line. Here's how the new feature, created by Baldwin, looks: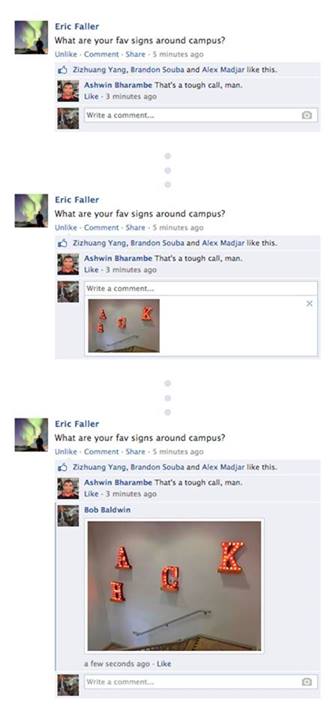 "When I'm talking with a friend, sometimes showing a photo helps me tell a story much better than words alone. If we're hanging out in person, I can show a photo from my phone, but on Facebook I'd have to post a link to a photo," Baldwin wrote. "Now, you'll be able to attach a photo directly when posting a comment. I hope this will make threads with friends more expressive and engaging."
While it might bring added visual impact to your feed, chances are you're about to be privy to a bevy of useless images people find "funny" or "cute" but in reality make you want to click that unfriend button faster than Don Draper knocks back his first drink of the day.
In the past couple of years, Facebook has placed increasing focus on images in your newsfeed. It's made them more prominent, taking up an increasing percentage of screen space and edging out updates from your friends as it becomes, as our Kevin Morris wrote, "a glorified RSS feed" with more prominent links as well.
Meanwhile, Facebook is set to hold a press event tomorrow in which it's rumored to be revealing a video option for Instagram. Of course, the easy Facebook sharing option for Instagram means your feed is about to get even more visual.
H/T CNET | Photo by SodanieChea/Flickr