Facebook suspended the account of several people behind the Uprising of Women in the Arab World page Wednesday over an issue stemming from a photo of an unveiled woman.
More than 61,000 people like the page, which shares hundreds of images of women (who were variably veiled, unveiled, or wearing a niqab) and men who support women's rights in the Middle East. The photos typically depict those people holding up signs explaining why they support the "human rights, freedom, and independence of women in the Arab world."
Of its five administrators, one was suspended for 30 days, one for three, and two for 24 hours. The fifth was warned. In a note posted to the page, the administrators claimed Facebook told them:
"You have posted a content that violates Facebook Community Rules, the post says: Follow us on Twitter @UprisingOFWomen. Support Dana with hashtag #WindToDana."
The group's note was posted in a number of languages and shared hundreds of times on Facebook.
On Oct. 21, the year-old page shared a photo of an Arab woman, Dana Bakdounes, holding a sign that read, "I am with the uprising of women in the Arab world because for 20 years I wasn't allowed to feel the wind in my hair and on my body." Bakdounes also held open her passport, showing a photo of her wearing a veil.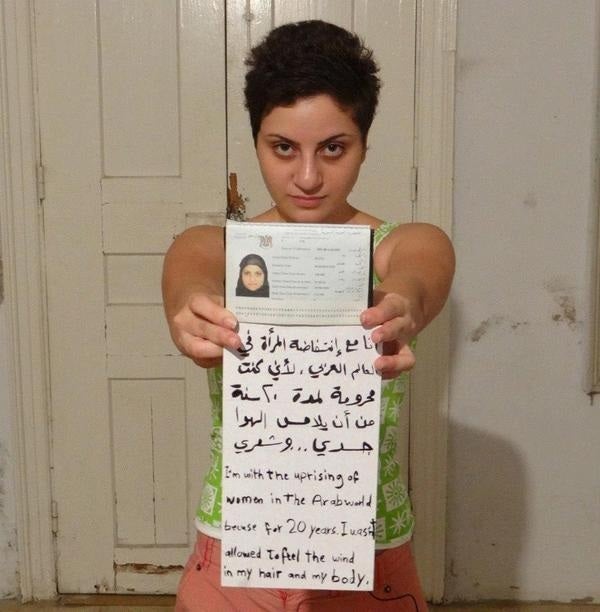 A few days later, Facebook deleted the photo, apparently over complaints that it was "insulting," and suspended an admin for 24 hours. Other reports suggested the image was reported for nudity and one of the admins, Farah Barqawi, told German site Detektor.fm that it was pulled due to "mysogenists and extremists."
The admins again uploaded and shared the photo Oct. 28, under the belief that it was not offensive and Facebook removed it in light of erroneous reports. Facebook removed it again (and suspended an admin for a week), but restored it last Wednesday without warning or clarification.
Supporters of the page and Bakdounes shared the image on Facebook, Twitter, and elsewhere on the Web to bring attention to the issue.
A week later, Facebook suspended the accounts of several admins and warned all five they could permanently lose their accounts. The quintet described this as "a direct attack on The Uprising of Women in The Arab World's Page" and called into question Facebook's policies, which they have attempted to clarify with Facebook but received no response.
Facebook and Uprising of Women in the Arab World did not return requests for comment.
Bakdounes's Facebook account was also apparently blocked.
The Uprising page admins claimed on Twitter that they "haven't posted about Dana since last week" and suggested Facebook was censoring them. One admin in particular, Sally Zohney, wrote that she couldn't respond to "serious" messages on Facebook because of her ban.
In response to the admins' dealings with Facebook, another page, Words of Women from the Egyptian Revolution (which relates to a Web series telling the stories of women in the Middle East), urged others to show their support in a protest beginning later today..
The protest's event page, attended by more than 700 people at the time of writing, urged Facebook to clarify why it removed the photo and suspended the Uprising page admins, and to call off the block on those accounts. It also urges an "immediate end of all Facebook patriarchal and misogynist policies (and practices)."
Update: Facebook confirmed that a user was mistakenly suspended for posting an image showing personal identification, since users aren't allowed to post others' personal documents. It was later determined that the person in the photo uploaded it to Facebook themself. Facebook then lifted the block on the account.
"Facebook has responded to two reports concerning this page – both relating to posted items," a Facebook spokesman told the Daily Dot. "In one instance a photograph was removed in error, but later reinstated. The person who posted it was informed and their temporary block lifted. In the second instance an item was removed because it was reported to us and found to have violated our community standards."
The spokesman also noted that high-profile pages and campaigns inevitably receive more attention, and it's more likely posts which violate the rules will be flagged.
Photo via @Ghozo/Twitter