For Pamela Fleming, it just wouldn't be Christmas without her furry family members. The porcelain artist shares her Orlando, Fla., home with Kira, a Siberian husky; Scampi, a border collie; a cat; a bird; and an aquarium of fish.
Her Etsy shop, The Magic Sleigh, is dedicated to making sure your own pets play a prominent role in your holiday festivities as well. Spanning hundreds of breeds, coat colors, props, and poses, Fleming's ornaments cute, colorful, and creative—and she's bound to have one that looks just like your Fido.
"From a cat in wheelbarrow, to a dog unstuffing its pillow, to a terrier wearing a wreath of flowers, I have seen it all," she said.
An award-winning porcelain artisan with 20 years of experience, Fleming handcrafts each of the nearly 400 items available in her four-year-old store—"NO MOLDS, NO CASTINGS" she clarifies on her page—and she's worked with hundreds of customers to recreate their pets. It's these lovingly sculpted custom orders that inspire Fleming the most.
"When someone contacts me who wants their little kitty immortalized with its angels wings, and slipped halos, after losing their best friend, someone else wants the new puppy made tangled up in the Christmas lights, it makes me realize that I am providing not only a product, but a memory," said Fleming, a member of Etsy for Animals (EFA): Artists Helping Animals.
Due to her growing popularity, paired with the time intensity of porcelain work, Fleming spends November and December chipping away at her backlog. This year, she had to stop taking orders long before Thanksgiving, but there are still hundreds of already finished ornaments available at her site to fill your stockings with.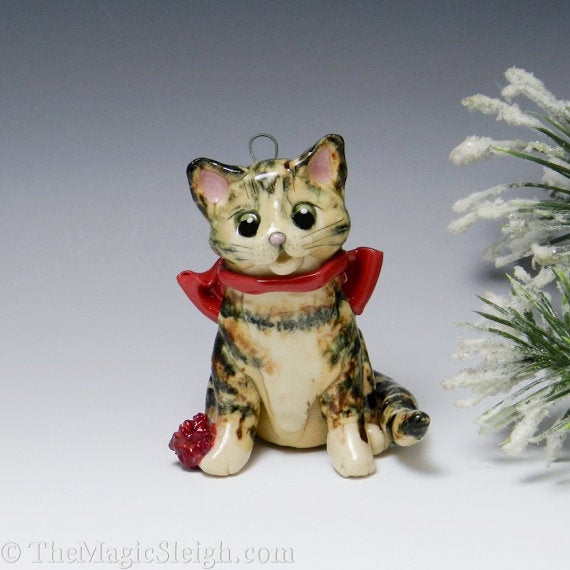 While this time investment is the downside of buying handmade, Fleming says customers who order early won't be disappointed.
"I believe that working with artists is still rare outside of Etsy, and many of my customers have no idea what to expect," she said. "Do not be afraid to buy something handmade. You would be surprised about how wonderful the service is here, when you are dealing directly with the artisan."
Fleming is currently only accepting orders to be delivered in January or later, but a purchase now can still make the holidays brighter for some lucky dog or cat; 10 percent of every order is donated toward animal rescue.
Photo via The Magic Sleigh/Etsy