Even before you know what's in it, there's something magical about a wrapped holiday gift. Etsy shop PaperAndPresent was founded on the belief that appearance is key.
Artisan Melissa Bilyeu sells crafty gift wrap and packaging kits that will prettify any present. One of her holiday kits was recently featured in Real Simple magazine as a gift idea itself.
"I'm the type of person who thinks that the presentation is as great—or sometimes better!—than the present," Bilyeu told the Daily Dot.
A veteran crafter with multiple Etsy shops, the Coloradoan started her first store, Paper Ink Press, in 2008. But after her son was born, she decided to try something new.
"I found it really difficult to do much printing on a regular basis because it's too dangerous to operate a printing press with a little one around," Bilyeu said. "I opened Paper and Present in May 2011 to give me something that I could do in my house while still keeping an eye on my son."
What was supposed to be a temporary side project took on a life of its own. Bilyeu's first holiday season selling wrapping paper was so hectic, it took priority over Christmas.
"I was so busy with the shop that I didn't have time to decorate the house or even bake cookies," she said. "This year, my son is almost 2, and I don't want him to miss out on anything, so I am trying to balance working on the shop with making sure he gets to experience all the joy of the season."
In order to get some much needed assistance, Bilyeu hired Gigi, a fellow Colorado artist and friend, to help her manage the shop. The pair recently took more than 80 packages to the post office in an effort to get out Etsy orders before Christmas.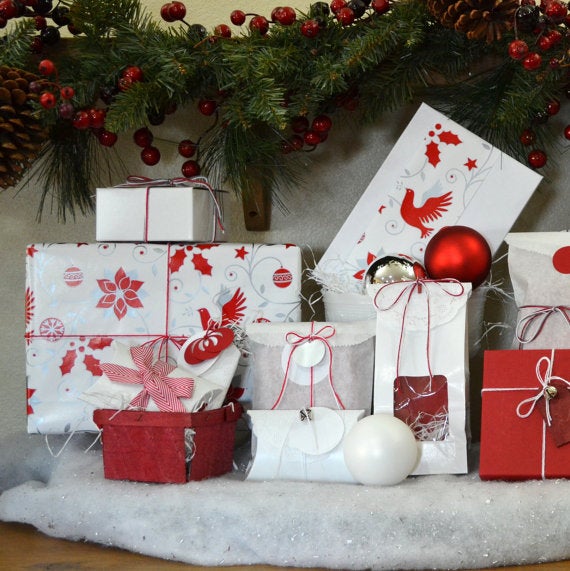 Even as her business grows, Bilyeu's favorite place to sell remains her Etsy storefront.
"One of my favorite things about selling on Etsy is the relationship I develop with some of my repeat customers," she said. "We get to know each other and develop friendships, and I've had a few of them contact me this year to help them with packaging items for their own Etsy shops this holiday season."
It's the busiest and most exciting time of the year for Bilyeu's shop. As she rushes to get out more orders, she likes to pause and think about the gifts she's already decorated.
"It's nice to think about the presents under trees around the world wrapped in some of my gift wrap."
Photo via PaperAndPresent/Etsy