Elon Musk announced on Twitter on Friday that Juneteenth is now considered a holiday at SpaceX and Tesla.
But he was quickly called out for forgetting a key detail in that first tweet: It's not a paid holiday for his employees.
"It does require use of a paid-time-off day, which is true of many other holidays," Musk tweeted in a response to someone thanking him for "providing a paid holiday."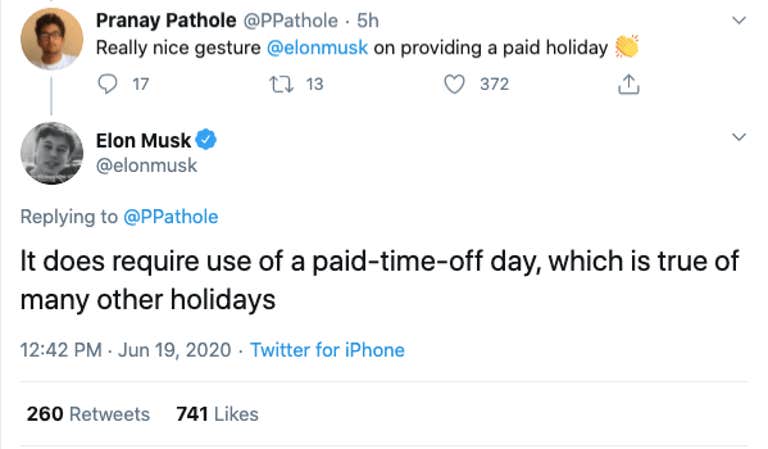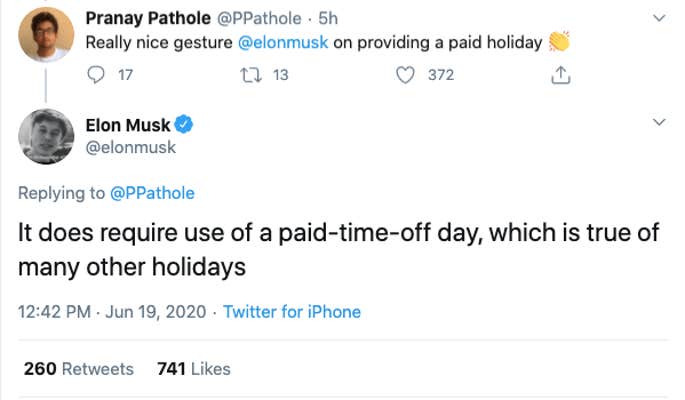 Tesla told its employees on Friday––aka on Juneteenth––that they could take the day off. BuzzFeed News reporter Ryan Mac tweeted that some employees were reportedly already at work by the time they heard they could have an excused absence.
"Tesla fully supports Juneteenth for any U.S. employee that wants to take the day off to celebrate, reflect or participate in events that are meaningful to you," Tesla's head of human resources wrote in an email, according to Mac.
In addition to telling employees at around 8 a.m. the morning of the holiday, the company said the day off would be unpaid or that people could take one of their paid days off if they wanted to get their normal salary.
People on Twitter summed it up to Musk designating Juneteenth a holiday with only his words and not actions.
"If you're using paid time off it's not a holiday, Elon," one Twitter user wrote.
Another person equated his announcement to someone announcing that there's free ice cream only to then charge people afterward.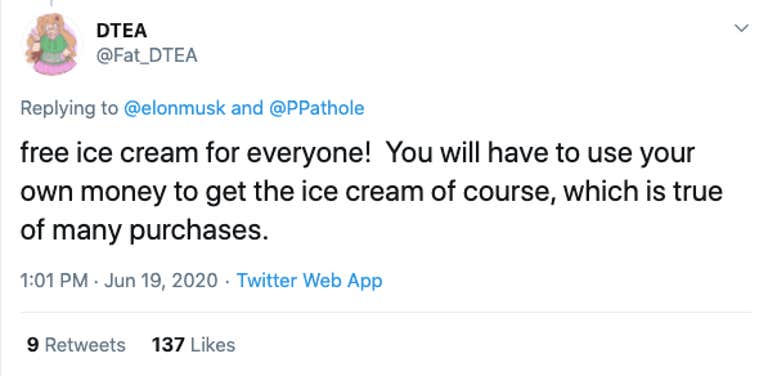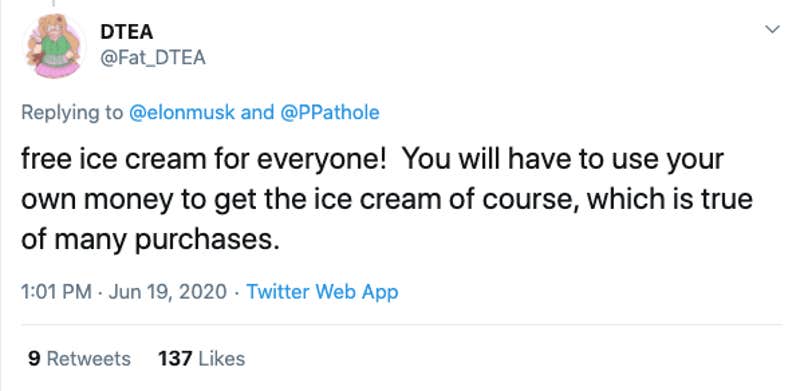 Juneteenth commemorates the end of slavery in the United States. As Black Lives Matter protests continue throughout the nation, more companies have designated the day as a holiday this year. In the light of all of this, people were none too pleased about Musk's half-hearted designation.
READ MORE:
H/T BuzzFeed News