As anyone who has ever sat through a three-hour lecture on the principle of comparative advantage knows, there is nothing even remotely boner-inducing about economic theory.
One XVideos user feels differently about Timothy Taylor, the managing editor of the Journal of Economic Perspectives at Macalaster College.
After an anonymous porn fan posted a video of one of Taylor's economics lectures on the hardcore porn-tube site (NSFW link), Taylor, a middle-aged father of three and author of such titles as In Defense of Outsourcing and Shortfalls in the Long Run: Predictions About the Social Security Trust Fund, is now one of the most unlikely porn stars on the Internet.
And the Internet (not to mention Taylor himself) doesn't know quite what to make of it.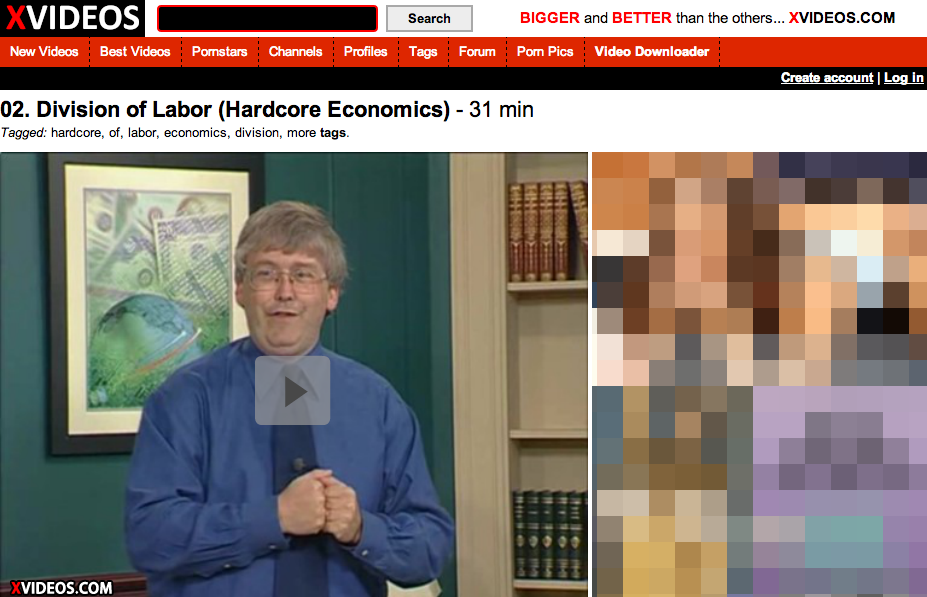 In "Hardcore Economics," the half-hour video produced by college-textbook producer the Teaching Company, Taylor opines on the theory of division of labor, dropping in references to Edgar Allen Poe and Libertarian economist Leonard Read for good measure.
Given the popularity of the student-teacher scenario in porn, it's hard not to expect Taylor to loosen his tie, summon a buxom co-ed, and sodomize her next to a bust of Milton Friedman while murmuring "supply and demand" puns. But the video is decidedly SFW, which makes its appearance on a tube site all the more jarring.
Judging by the comments section on xvideos, the rest of the Internet seemed to share our befuddlement:
"What the holy hell is something like this doing on Xvideos?"

"When does the porn start, I'm near the end and no action yet? :( "
Some enterprising viewers, however, tried to make the best of the situation:
"such a dirty talker"

"The Teaching Company might not have the production values of Digital Playground or Vivid, and they might not have the chicks either, but whatever, I came twice watching this."
Shockingly, this is not the first time Taylor's lecture (which was shot around 2005, if the Amazon page for Taylor's Learning Company economics DVD set is any indication) has ended up on a hardcore porn site.
In 2011, a still from the video showed up on an r/WTF thread (link NSFW) as one of a list of suggested videos on XVideos, among a few titles we can't publish here.
While the original video from the 2011 video appears to have been deleted, it's now back with a vengeance, giving Taylor a peculiar sort of online celebrity presence beyond his blog and Wikipedia page. Yet when we reached out to Taylor to ask if he had any thoughts about his XXX sideline career (or if he was even aware of it in the first place), he had this to say:
"Didn't know, and so no useful comments. But in some sense, I'm not much surprised. After all, the web is a big place, porn is a substantial chunk of it, and digital content is fairly easy to move."
He's correct, but we think Taylor's selling himself too short. Steve Jobs once said, "People don't know what they want until you show it to them." Now that the Internet has seen "Hardcore Economics," they'll want more Timothy Taylor, and they'll want it now.
Photo via Facebook/Timothy Taylor