Jimi Ono is accusing Drake Bell of abuse and pedophilia.
The songstress turned TikTokker, whose real name is Melissa Lingafelt, made the accusation via TikTok on Wednesday. In a video, Ono claimed that she was only 16 when she and Bell started dating. Based on Ono's current age, Bell would have been 20 at the time. What began as a tame relationship eventually turned into an abusive one, according to Ono, who claims that Bell has done the same to countless other women.
The TikTok begins with a statement from Ono. "This is my story and my life," she says. "It wasn't until recently that I actually realized that abuse isn't something that all women have to go through."
Ono then launches into her story. She claims that at 16 while being homeschooled, she moved in with Bell. A year into their relationship, Ono claims that "the worst type of verbal abuse you could ever imagine" began.
Ono goes on to detail the physical abuse that allegedly followed. "Hitting, throwing…everything," Ono claims. "At the pinnacle of it, he drug me down the stairs of our house in Los Feliz. My face hit every step on the way down."
Ono even claims to have receipts. While the TikTok doesn't reveal anything more than photos of Ono and Bell together, the young singer claims to have photos of herself following the abuse. She has yet to share them on social media.
More than anything, it was Ono's claim of pedophilia that sparked major concern in many viewers. "I don't even want to get into the underaged girls thing," she said in the TikTok. "I mean, I will, but… I'm scared."
In several follow-up videos, Ono shared text conversations between herself and friends, as well as other girls claiming abuse at the hands of Bell. In one, Ono stated that the best friend of Bell's wife attempted to discredit her story. Bell does not appear to be married.
Several other messages dive into claims of underaged girls and statutory rape. One message claims that Bell slept with a 15-year-old in 2007 when he would have been 21. Another girl, who said she was in eighth grade when she met Drake, accused him of rape.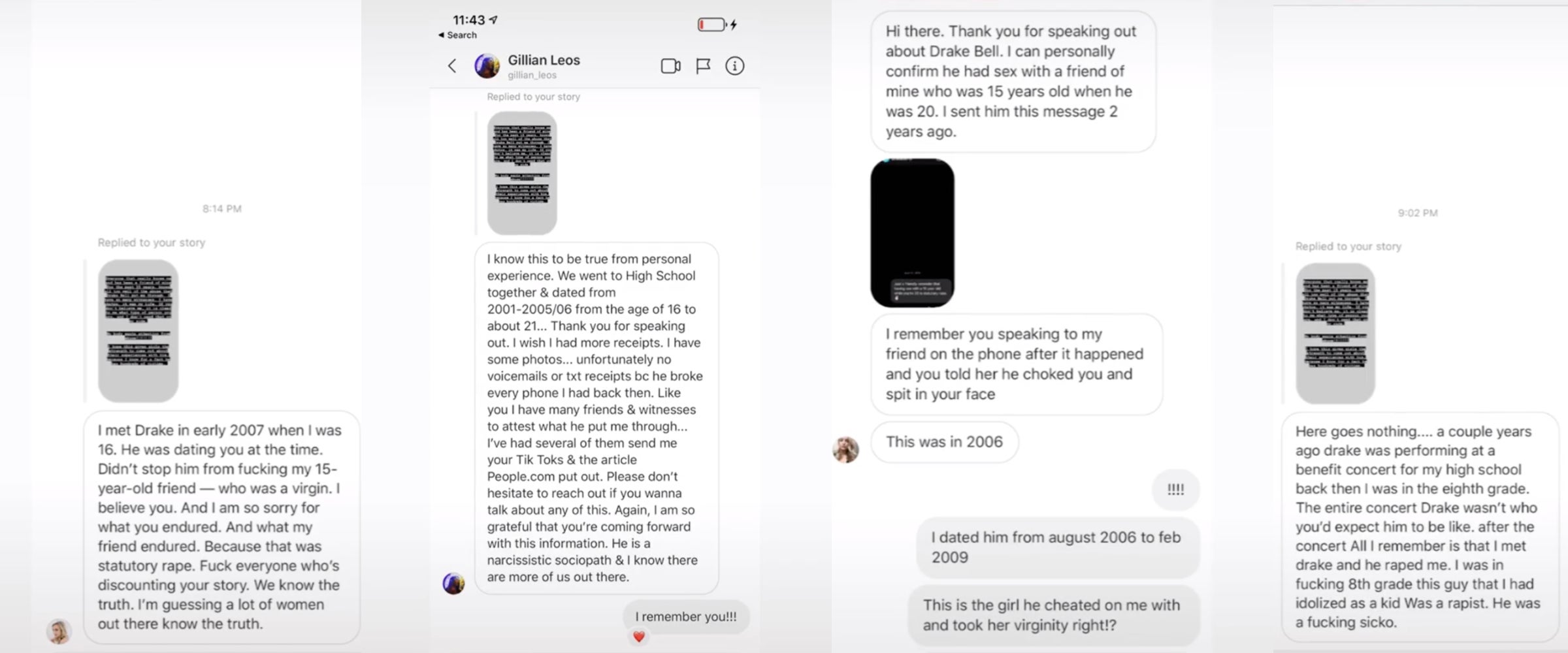 The story immediately caused a stir online, and within hours Bell's name was trending on Twitter.
Most people believe Ono's claims, but some are more dubious. One person noted that Ono never showed the evidence she claimed to have of abuse. "Claims with no evidence are just claims," they wrote.
Bell, meanwhile, is adamantly denying the accusations. In a statement to People, Bell said he "never abused my ex-girlfriend or did so many of the other things Melissa falsely claimed on her TikTok video."
Noting that their relationship ended "a decade ago," Bell admitted that things didn't end well. He added, however, that "Melissa still felt close enough to me just last year that she was comfortable reaching out to ask me to provide her with financial support during a tough time (which I did)," he told People.
"I do not know if today's behavior is some kind of misguided quest for more money or attention," he added. "But I cannot and will not allow these offensive and defamatory allegations to go unchallenged and I am reviewing my legal options."
The Daily Dot reached out to Bell and Ono.
---
Today's top stories
H/T People