Since Snow White was first released in 1937, Disney has had such a long string of animated hits, it's become almost synonymous with childhood in America. Every generation has its favorite Disney films and, maybe because the attachment is formed at such an early age, people take them very, very seriously. In 2006, Disney purchased a little company called Pixar, which already had huge hits like Toy Story and Monsters, Inc. Since then, Disney has continued to crank out hits in both the more traditional animation style and using Pixar's state-of-the-art CGI. Certainly, the company has produced some amazing films. Who could really pick between an action-packed movie like The Incredibles and a heart-warming story like Lilo and Stitch?
The answer is just about everyone on Twitter. Someone posted a "Disney vs. Pixar" bracket to coincide with "March Madness" and, to say the least, people had opinions.
Let's discuss pic.twitter.com/RlPhonUPfP

— Spencer the Lyft Driver (@smjxmj) March 24, 2018
the superior disney bracket. let's discuss pic.twitter.com/u8NB35CSbt

— 达芬妮 (@bigmeatycleauxs) March 25, 2018
The indisputably correct Disney/Pixar bracket pic.twitter.com/VtdMCSq4zV

— Ryan Rosenblatt (@RyanRosenblatt) March 25, 2018
https://twitter.com/Chrislaq/status/978070732629532672
Be careful about filling out this bracket "incorrectly." People are prepared to fight about their favorite Disney films.
How does Wall-E lose to the Incredibles?

— Jalen Cone Fan Account (@henryskutt) March 24, 2018
Why in the world is Tangled so strong? And Toy Story 2 beating Up? Come on!

— Lance Ulanoff (@LanceUlanoff) March 25, 2018
Okay your little Disney bracket things are cute, but it took me less than three seconds to know that Princess and the Frog sweeps all of them. Yes, even your precious "Lion King". pic.twitter.com/x6Mh8h7dk4

— Britt. (@brittadu_) March 26, 2018
Inside Out over Finding Nemo!? No chance. Not even an UMBC over Virginia chance.

— Ben Rudolph (@BenThePCGuy) March 25, 2018
Not only did people object to the way their peers were filling out the bracket, but some people felt the seeding was wrong to begin with.
Not to mention your seedings are all F'd up. How is Up a 1-seed? How is Incredibles facing Wall-E in the first round? Incredibles would not be a 15 seed, so it shouldn't be there.

— Levi Damien (@LeviDamien) March 25, 2018
Also I reject the premise of Monster Inc & Incredible facing off in the 1st round..thats a 1 vs 2 seed

— KungFuKenny (@TheRealKennyP) March 25, 2018
It's unclear at this point who created the actual bracket that's being passed around. "Jolley Rancher," The Twitter user who seems to be getting the most traction out of it, says it wasn't him.
For the record y'all I didn't seed this bracket I only filled it out with the correct picks

— Spencer the Lyft Driver (@smjxmj) March 25, 2018
Disney Parks created its own "March Magic" bracket based on its attractions, although people couldn't care less about "Monorailers" and whether or not they are better than "Movers."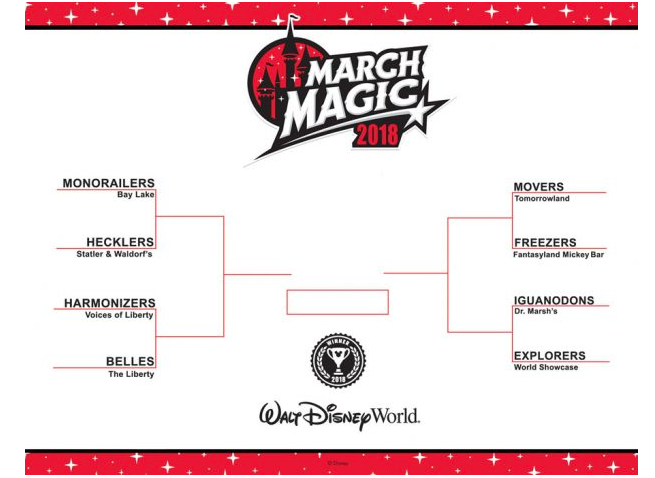 If you feel the need to enter the fray, here's an empty bracket just waiting to be filled out. But beware: if you think A Bugs Life is better than Up, your family might disown you.
And for everyone asking for a blank bracket here ya go, knock yourselves out pic.twitter.com/AVdMEDQa7r

— Spencer the Lyft Driver (@smjxmj) March 25, 2018
READ MORE: