A dark tweet from the main Disney account is worrying everyone on Twitter.
On Sunday evening, the usually jubilant entertainment company—the slogan for its California amusement park is "the Happiest Place on Earth"—shared a GIF of a scene from the animated film Pinocchio that shows the titular character as a stiff, lifeless puppet about to be turned into a boy by the Blue Fairy. The accompanying text on the GIF reads, "When someone compliments you, but you're dead inside." Whoever was running Disney's social account on the weekend tweeted the GIF with the caption, "Makes no difference who you are," the lyrics from "When You Wish Upon a Star," the song that famously appears in the film.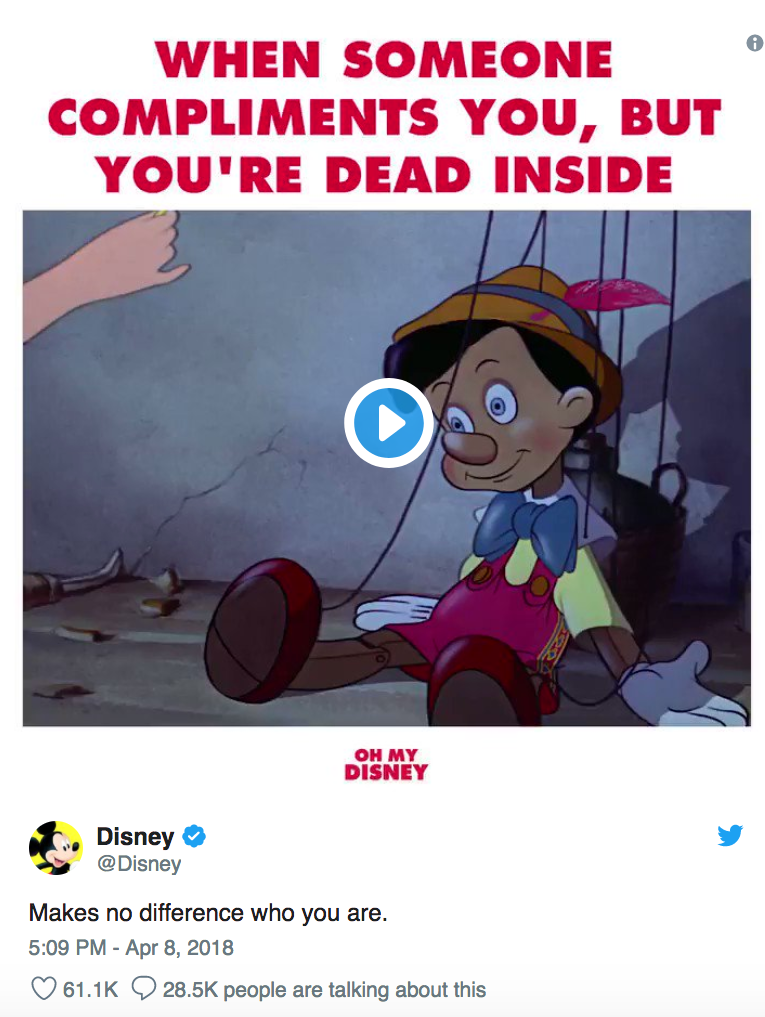 Who knew that dark humor was part of Disney's new brand? People were surprised and confused that this tweet came from Disney's main account.
https://twitter.com/Toadsanime/status/983102869166608385
You okay there Disney?

— I'm derpo howdy howdy howdy (@Doodle_Dude16) April 8, 2018
https://twitter.com/s8n/status/983122327796936704
Well that was dark, Disney. https://t.co/yuwsRhNK71

— Professor (@kaepernegus) April 8, 2018
This is some kingdom hearts shit

— PINGSLEY (@REALpingsley) April 8, 2018
Some people were worried about Disney, and Mickey Mouse:
somebody needs to check on mickey real quick https://t.co/SUHHO6gfOZ

— jay (@JayWalkr) April 9, 2018
Others were worried about the person running Disney's Twitter account, who seemed to be going through something heavy in their life:
can someone check on this intern https://t.co/I9MiBTCFmh

— KELCOM (@KELMIKICo) April 8, 2018
Does the person that runs the Disney Twitter account need a hug? https://t.co/5vr4hTui9L

— kev (@kevmkevm) April 8, 2018
The tweet has received nearly 2,000 replies and 27,000 retweets so far. Clearly, not everyone on Twitter is troubled by this tweet.
But maybe Disney is simply trying to have some fun with, uh, depression jokes. This GIF includes the label Oh My Disney, which is a Disney website that includes quizzes, listicles, and obviously, some pieces advertising new attractions and foods at its amusement parks. So the tweet seems definitely intentional. And if it prompted a lot of people to check out this website for Disney fans, it worked.
Update 11:45am CT, April 9: Disney has deleted the tweet.