The Disney Channel's next big thing is a fanfic movie of their own characters. Seriously.
Descendants is a TV movie about the children of famous Disney villains. In high school. Along with the children of Disney heroines like Mulan and Rapunzel. Unless we're very much mistaken, this will surely end up achieving the same kind of tween cult status as High School Musical.
This movie even includes Maleficent, although you'll be unsurprised to discover that she isn't being played by Angelina Jolie. Instead, Disney has gone for the slightly bizarre casting of Kristen Chenoweth, whose most famous roles are mostly the precise opposite of "tall, evil goth witch." You know, like playing Glinda the Good Witch in Wicked, for example.
The other Descendants villains will be Cruella DeVille, Jafar, and the Evil Queen from Snow White. Disney has released the first photo of their teenage kids, and they look about as pop-punk as you'd expect from a Disney Channel movie about a cartoon villain school. Clockwise from top left: Jafar's son Jay (played by Booboo Stewart from Twilight and X-Men: First Class), Cruella's son Carlos, the Evil Queen's daughter Evie, and Maleficent's daughter Mal.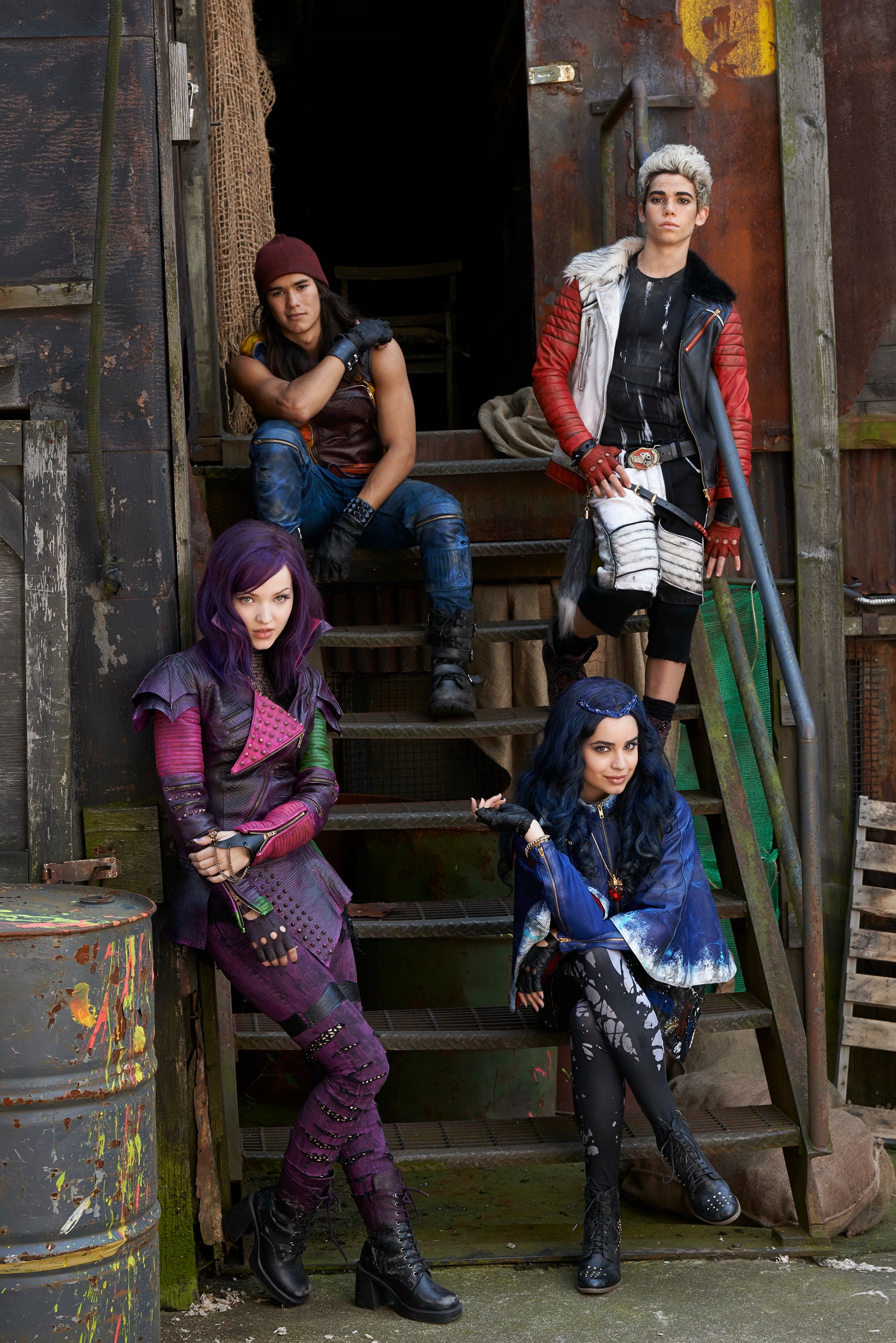 Photo via Disney Wiki
(We're kind of hoping that the Evil Queen's real name literally is "Evil Queen." That would be badass.)
Honestly? This looks amazing. Ridiculous, obviously. But amazing nonetheless. Did you notice that Cruella's son has a dalmatian belt buckle? And that Evie has a little heart-crown necklace? Finally, Disney is catering to that all-important tween goth demographic. They've even made sure that all four villain kids are wearing fingerless leather gloves, because obviously that's what tough teen rebels wear.
Without even having seen a trailer, we're already sure that this movie is Disney fandom personified. First of all, transferring fantasy characters into a totally inappropriate scenario like high school? Totally a fanfic cliche. And secondly? Racebending.
Disney fans have been asking for more onscreen diversity for years, and Descendants seems like a direct riff on the resulting racebent Disney character fanart. Several of the main characters come from multiracial families, and the Evil Queen and Cruella Deville are played by Lebanese-American and African-American actresses.
Now all Disney has to do is transfer this attitude to their big-budget movies instead of just the made-for-TV stuff, and the fan takeover will be complete. 
Photo via Disney Wiki