In Demi Lovato: Dancing With the Devil, the singer pulls back the curtain on not just her near-fatal 2018 overdose but the systems in place that warp and damage young women and girls in the entertainment industry.
Demi Lovato: Dancing With the Devil

RELEASE DATE:
March 23, 2021
DIRECTOR:
Michael D. Ratner
STREAMING:
YouTube
A heartbreaking look at addiction and trauma.
The four-part series, which premiered at SXSW, will be released on YouTube right before Lovato's new album. It's a rebranding on her terms, and the doc eventually finds its subject reaching some form of transcendence—which is rare for a pop-star documentary. But for a long while, the pain and horror piles up: her father's death, toxic beauty pageants, child stardom, eating disorders, food restrictions, self-harm, sexual assault. (The series opens with a trigger warning.)
Note: This articles contains detailed mentions of sexual assault.
She recounts how, on the night of her July 2018 overdose, the dealer that supplied her with what later would be identified as heroin laced with fentanyl also sexually assaulted her and left her to die. In a heartbreaking admission, she says she contacted the same dealer after her overdose, to revise history and assert that she was in control—which only made her feel worse.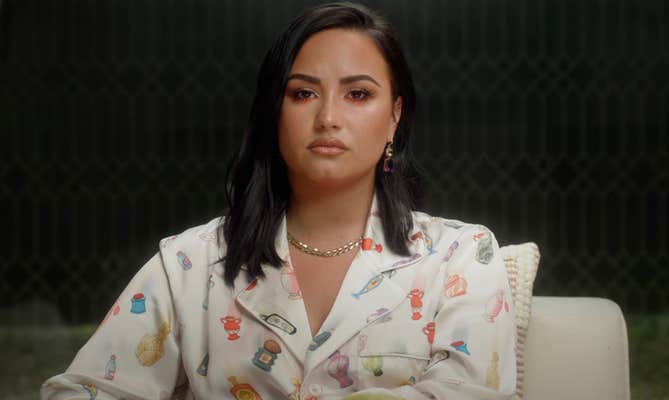 Lovato suffered three strokes, a heart attack, brain damage, organ failure, and blindness as a result of the overdose. She also discusses how it affected those around her: Fans harassed friend and choreographer Dani Vitale, accusing her of leading Lovato to overdose that night. Vitale says she experienced at least a year of harassment, but Lovato's follow-up comment about her fans being "a little out of line" doesn't quite square with what happened to her friend. We also see how her addiction affected others: Her assistant, Jordan Jackson, found Lovato naked and unresponsive and called 911, but asked for no sirens in order to keep it private—holding up Lovato's shroud of secrecy around her drug use.
Elsewhere, Lovato reveals that when she was 15 she was raped, and that was her first sexual experience. She says she reported it, and that her rapist was someone she had to see "all the time," suggesting it was a fellow Disney Channel star. This and the admission that she was assaulted the night of her overdose are massive traumas to unload, and Lovato is obviously in a place where she can do that, but there are no real follow-up questions about accountability for those crimes.
The doc does feel a bit fractured: Director Michael D. Ratner started filming before the overdose, after Lovato's 2017 film Simply Complicated was released, but he had to restart in early 2020, just as Lovato was about to embark on a tour. Her manager Scooter Braun, an executive producer on the doc, gives his testimonial and paints himself as a supportive friend, which comes off more opportunistic than genuine. There are also interviews with Lovato's mother and stepdad, sisters, and friends. It appears she has a supportive group around her—though her relationship with her mother could use some context—but she knows that won't stop another relapse. Everyone around her confirms that Lovato being a good liar kept her initial relapse a secret.
Dancing With the Devil does a decent job illustrating the complexities of addiction and sobriety: Lovato eventually admits that she's not sober—she uses weed and alcohol, a "moderation" approach that comes with a disclaimer. She also now identifies as queer. Much like the recent Britney Spears doc, Dancing With the Devil lays a lot on the viewer, much of it uncomfortable truths about how women's agency is controlled. But that doc had no input from the subject itself. Here, Lovato's openness is refreshing, even startling, but it also leaves us with questions that can't be answered in four episodes.