Debby Ryan has completed her career arc from child actress to TikTok meme queen.
The Insatiable became a viral sensation in 2020 thanks to a scene in the 2012 Disney movie Radio Rebel, about a shy high school student who moonlights as a rock DJ. In one scene, Ryan flashes a shy half-smile that has become the subject of countless memes and impersonations over the last several months.
Ryan poked fun at this meme in her new TikTok. The video shows Ryan in a plaid button-down shirt and sweatpants with the caption "What I'd wear to fashion week in…" She then cycles through a series of outfit changes for previous characters she's played, including Jessie Prescott in Jessie, Bailey Pickett in The Suite Life on Deck, Patty Bladell in Insatiable, and, of course, Tara Adams in Radio Rebel.
The TikTok ends with a close-up on Ryan, as she sweeps her hair to the side and flashes the awkward smile that launched a million memes.
Ryan's TikTok was a huge hit. It's been viewed over 25 million times on the app in the last 12 hours and been shared all over Twitter, where users praised her for owning the meme.
"The way Debby Ryan is the first person to acknowledge their own meme and not kill it… her power," @zoomfield tweeted.
User @SamsEverlyte even wrote a brief fanfic that drew inspiration from Ryan's TikTok and the app's potential U.S. ban.
"POV: TikTok actually gets banned," they tweeted with a screenshot of Ryan's facial expression. "Debby Ryan bringing back the radio rebel face to distract trump so we can all sneak back into the whitehouse and bring the app back."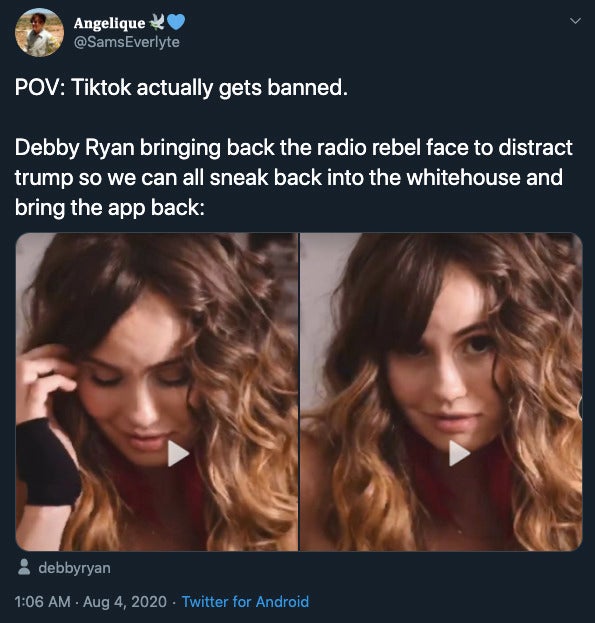 If TikTok gets banned in the U.S., at least Ryan gave it a fitting swan song.
READ MORE: