BY JAIME WOO
Is the cupcake trend really dead?
With news of the closure of the cupcakery chain Crumbs, the media has rung the death knell for the dessert. I wouldn't mind if it were true, having longed for the bubble to burst. $4 cupcakes are the Juicy Couture of baked goods: tacky and yet somehow able to attract customers who justify their high cost. (Incidentally, Juicy is closing all its stores this summer for a reboot.)
The problem, however, is that the end of cupcakes has been predicted for nearly a decade. Someone, I'm sure, called for their decline in 2011, the same year Crumbs debuted on the NASDAQ to a nearly $60 million market cap, a valuation based on sales of 1.5 million cupcakes a month, meaning each store sold over 1,400 cupcakes daily. But consider that American cupcake consumption for 2012 was at 770 million, or about 2.5 cupcakes per person.
Cupcakes aren't disappearing, but we've probably reached peak cupcake. Read the signs. Take Cupcake Wars, the Food Network reality-television competition that launched in June 2010. The show at its peak in mid-2012 reached over 2 million viewers, only to quickly fade in 2013. For its last season, Wars got banished to Saturday nights, where its penultimate episode drew 840,000 viewers. While far from dismal, it signalled audience fatigue, and Food Network burned off the final episode the weekend before New Year's.
Google Trends, which tracks search queries, also supports peak cupcake, in fact placing it at two years ago. Interest in cupcakes showed a steady increase year-upon-year from 2004 (the earliest point of data collection) to 2010, before a huge run-up from mid-2010 to February 2012 when searches doubled. Since that winter, the searches have returned to 2010 levels.
Before we look at why the furor has started to fade, it's helpful to reflect on how it began. Like oversized flower pins and Jimmy Choos, the popularity of the cupcake came from the television series Sex and the City. An episode from its third season set a pivotal scene outside Magnolia Bakery with writer Carrie Bradshaw telling her lawyer friend, Miranda, about her crush on a furniture maker named Aidan—who would later feature as a love interest for two seasons and in the second film—while the two ate vanilla cupcakes with pink buttercream frosting.
The scene lasted just 77 seconds, but by that point in the show's tenure every New York reference got highlighted and pored over. Fans religiously followed its fashion, nightlife, and food, and to garner a mention was a sign of being part of the zeitgeist. Magnolia at that point was already a hotspot, but being featured enflamed its popularity. Lines formed for blocks with people wanting to try a cupcake so good Carrie Bradshaw would eat it.
Although the show ended its original run in early 2004, a second wave of popularity came when TBS began syndication from mid-2004 to 2010. Now a wider audience could discover what the buzz was about (albeit in a heavily-edited version). For most of last decade, one popular idea of feminism centered on consumerist empowerment: for Sex and the City fans, they might not have been able to completely copy the lifestyles of Carrie and company, but they could imagine some strength through expensive bags and pink-frosted cupcakes.
Funny enough, the thing that would kill the popularity of Sex and the City ends up sustaining the cupcake: the Great Recession. With the global financial crisis, consumers began to tighten their wallets and look for comfort within the uncertainty. From 2008 to 2011, many Americans considered taking staycations. The second Sex and the City film, released in 2010, miscalculated by sending its characters on an extravagant trip, which read gaudy and tone-deaf. There were other problems, but that the film seemed naive to a post-recession environment soured critics and audiences alike.
Americans didn't want (and couldn't pay for) what appeared to be overly wasteful excess. Instead, they turned to affordable luxury, smaller indulgences that wouldn't break the bank. Pleasures like Apple's pocket devices and, yes, cupcakes.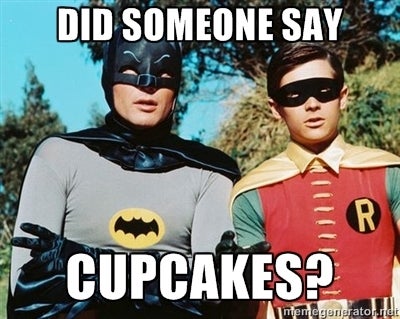 At its height, the iPhone (and later the iPad) gave consumers a sense of optimism and was positioned as technological progress that provided agency for Americans to once again achieve great things. The cupcake, on the other hand, was not only a relatively modest form of decadence, but also a throwback to childhood, a time of security and national preeminence: comfort within the uncertain climate. Both fed into American triumphalism, supported by the fact that both have since been exported around the world.
And similar to the Cupertino-based company, the cupcake fever appears to have broken in part because of its success. The growth of cupcakes led to saturation of the market, product fatigue, increased competition, and backlash.
Cupcakes have entered the mainstream, sold in many locations at different price points. What sunk Crumbs wasn't that cupcakes were unpopular, but that their popularity meant ubiquity. At some point, anyone who wanted a cupcake could get one, and for many people the novelty was lost.
Even if they weren't sick of eating them, they might have tired of seeing them. Cupcakes saturated popular culture: Katy Perry wore a cupcake bikini in her "California Gurls" video, the television show 2 Broke Girls centers on starting a cupcakery, and Kristen Wiig's character in Bridesmaids made them, as some examples.
With cupcakes everywhere, they became obvious, uninventive. Tastemakers went in search for the more adventurous. Cake pops, high-end doughnuts, macarons, and whoopie pies all had (brief) moments in the spotlight. And, 2013 was the year of the Cronut. These all were fads, lacking the symbolic narrative of cupcakes, but they demonstrated a hunger to find an alternative.
The most interesting competitors allow consumers to associate them with healthiness: frozen yogurt, fresh juices, and smoothies. (Even McDonald's offers three kinds of smoothies.) With the economy slowly recovering, Americans now seek treats that appear better for them. What these lack in visual dazzle, they make up with promises of protein, probiotics, and antioxidants: a $4 cupcake, in a way, seems silly, trivial. Of course, a drop-off appears imminent once people realize that the sugar content in these foods make them only marginally healthier.
The truth is, none of these alternatives will usurp the cupcake. While the trend has declined, the cupcake is hardly in dire straits. And, this is actually a good thing. Cupcakes can be wonderful, but over the past few years, they had become an over-the-top parody of itself, the bachelorette party of desserts. Too often makers fell lazy, relying on outlandish flavor combinations, sickening sweet batter, and frightening amounts of frosting to compensate for lackluster efforts. (We've all seen enough cupcakes with frosting as tall as the cake itself. What a waste.) The idea of a cupcake had become more important that the execution of it.
Here's hoping the failure of Crumbs serves as a warning shot that the windfall is over. Or, as Carrie Bradshaw might say: after a decade or so of good fortune, things will no longer be such a cupcakewalk. It might not be great for the people who make cupcakes, but it looks like a win for people who enjoy them.
Jaime Woo is a Toronto-based writer with a focus on the intersection between technology and culture. His book, Meet Grindr: How One App Changed How We Connect, was published in 2013 and is a finalist for the 2014 Lambda Literary awards.
Photo via DixieBelleCupcakeCafe/Flickr (CC BY N.D.-2.0)