Like a Woody Allen line in the flesh, the collective weariness and aggravation of New York City's workforce appeared on the Queens-bound N train in the form of a tiny dead shark early Wednesday morning.
Man, if you like photos of dead animals, you're going to love Twitter today.

— Philip Bump (@pbump) August 7, 2013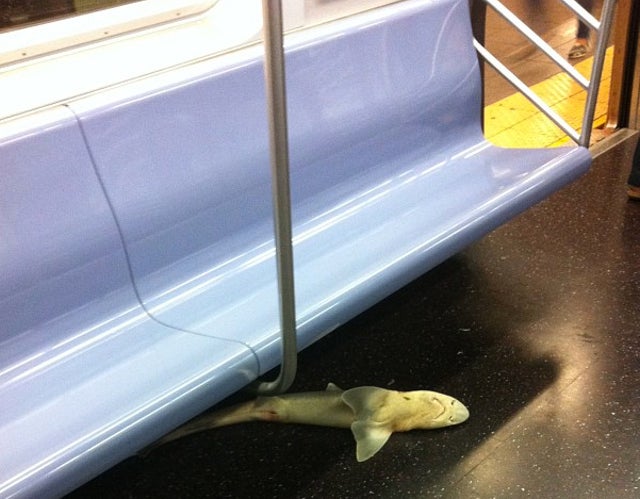 Photo via Gothamist
Naturally, MTA riders did what anyone in their right mind would: give it little props and pose with it.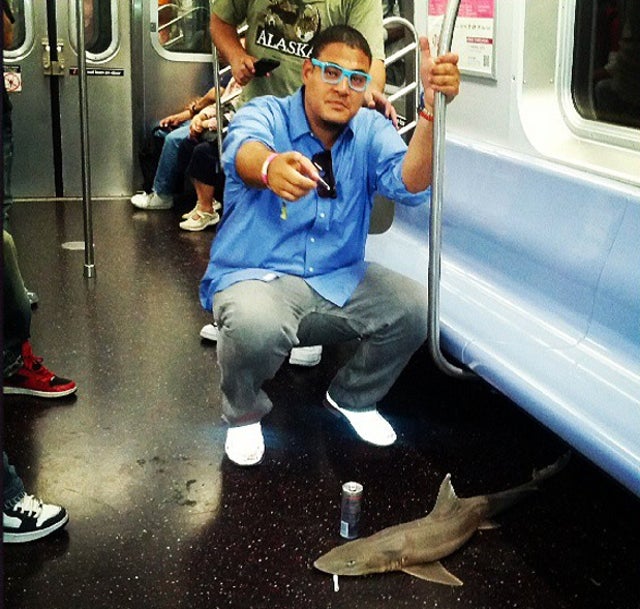 Photo via Gothamist
Clowning Around With The Dead Shark On The Subway, via @Gothamist http://t.co/bfCGLsazx7 pic.twitter.com/q7cDrRF0uU

— Daily Intelligencer (@intelligencer) August 7, 2013
Photoshop-drunk lunatics on a site called Twitter dot com began adding to it:
NOW the train shark is me, IRL RT @HeyVeronica Wow looks like the train shark loves #brands and @OREOS! pic.twitter.com/6MeU3y3aIS

— Annalise Domenighini (@bananalise) August 7, 2013
New Warby Parker ad pic.twitter.com/ShWDO07vy3

— Veronica de Souza (@HeyVeronica) August 7, 2013
@bananalise @HeyVeronica @OREOS #DotsGame pic.twitter.com/C6dzyrGs2K

— Dianna McDougall (@DiannaMcD) August 7, 2013
@DiannaMcD @HeyVeronica @bananalise @DennysDiner pic.twitter.com/sW8quEV1uq

— Amber Gordon (@missambear) August 7, 2013
I wanted to see what it'd look like after 10 years of heavy drinking, which is about par for the course when your living costs consume 60 percent of your income.
This is what the N train shark will look like in 10 years pic.twitter.com/WTcdxEUXQx

— Cooper Fleishman (@_Cooper) August 7, 2013
Let's hope it got out of there OK.
sure hope that shark managed to get where he was going http://t.co/uzOitZKw9o

— darth wackadoodle™ (@darth) August 7, 2013
Update: A Gothamist tipster reveals the shark's origin story. Is it the same animal? It looks smaller on the train, but who knows.