Facebook is becoming the last place you'll want to be on if you're looking to avoid your family, as a woman in Indiana found hers within hours.
Adopted when she was five years old, Dawn Price posted a message on her account searching for her half-siblings after becoming frustrated for not finding them using other traditional methods. After discovering the identities of her biological parents when she was 20 years old, she was alerted that she had several half-brother and sisters, which prompted her Facebook campaign.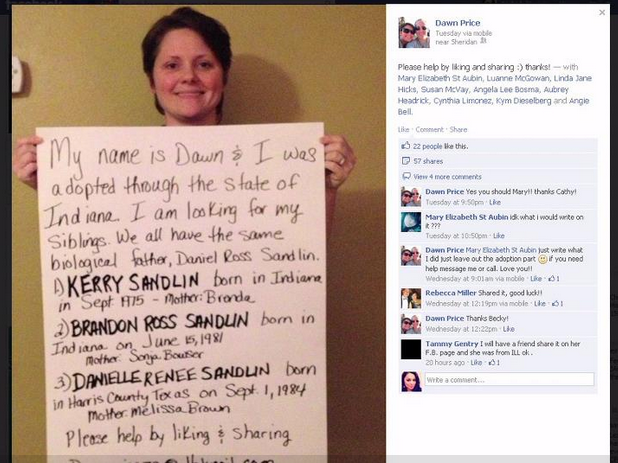 Scribbling a note on a poster board (obviously taking a cue from a Utah woman who did the same thing to locate her biological parents), Price posted biographical information of the people she was looking for and posted it on an Indianapolis Fox affiliate's Facebook page.
"When I did that, it was just like, yeah this is gonna work, not!," she joked to WXIN-TV. But she was proven wrong after her post went viral and was shared hundreds of times.
A Pennsylvania-based intelligence firm (probably looking for good PR) caught wind of her story and helped her find a brother in Ohio and a sister in Illinois.
"I immediately started crying," she said.
Price drove four hours to meet her sister, and the two are now "inseparable." However, she's still looking for two more siblings, so she hopes this publicity will help.
"I haven't given up hope and I'm not gonna," she said.
Photo via WXIN-TV/Facebook