Out with the old, in with the new. Dailymotion's gotten a redesign, and it looks a lot less like YouTube.
The French-headquartered Dailymotion, the second-largest video sharing community on the Web with over 110 million unique monthly visits, rolled out a complete site redesign today, one that nods to Pinterest's endless Mosaic layout and allows visitors to watch videos directly on the home page. (The site has also unveiled a secondary, Facebook-style news feed that looks a lot like YouTube's subscription and social feeds.)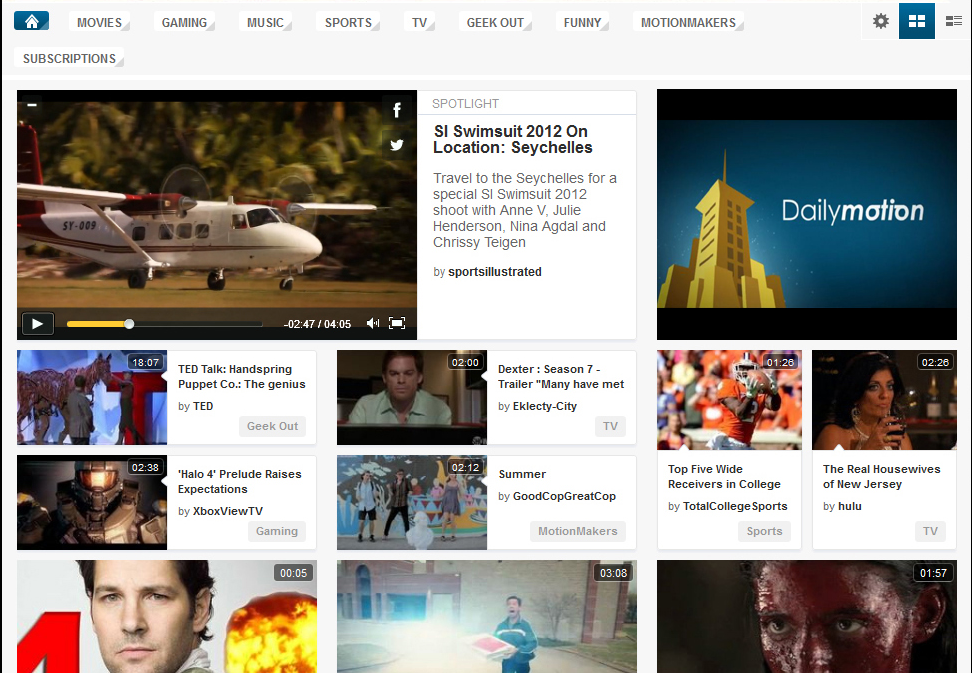 The redesign has been a long time coming for a site that's always had a wealth of content—Dailymotion lays claim to over 50,000 Motion Makers (original content creators) and also has syndication deals with providers like FOX Sports, Hulu, HBO, and Showtime—but has been mired by diminutive video boxes and text. 
Speaking with the Daily Dot, Dailymotion U.S. managing director Roland Hamilton stressed that the redesign will help visitors better navigate through the stacks and stacks of videos the site has to offer. In addition to the aforementioned changes to the homepage, Dailymotion's redesign makes subscribing to channels easier and allows for users to effectively "pin" videos for delayed viewing.
"We think this will allow visitors a greater window into the breadth and wealth of our content, " Hamilton said. "The key question for visitors is always how do you discover what's trending right now, or what's about to trend. We rely on our editors to help our visitors find what the hottest videos will be.
"Going from a homepage that has 30 videos to 100, and having an environment where people can come and play and watch videos on the homepage itself… that allows visitors to get a great deal more exploring done."
Dailymotion reports that its global reach increased by 30 percent last year, but it's not likely to overtake YouTube anytime soon, aesthetically-pleasing redesign or not. At 110 million unique visitors per month, the #2 still sits roughly 690 million unique visitors per month below the Google-owned YouTube.
Photo via Dailymotion