We crawl the web so you don't have to.
Sign up for the Daily Dot newsletter to get the best and worst of the internet in your inbox every day.
Hello fellow citizens of the internet! Andrew here. Welcome to today's edition of web_crawlr.
Our top stories today are about: A woman alarming people online by using a Chuck E. Cheese card to open a hotel room door, a Spirit Halloween worker exposing secrets about working at the seasonal retailer, debunking claims that the cast of The Vampire Diaries got arrested for flashing people on a bridge, and a look back at the time Gov. Ron DeSantis was mocked for wearing white boots.
After that, our Culture Reporter Michelle has a "Now Streaming" column for you.
See you tomorrow!
— A.W.
---
⚡ Today's top stories
A woman alarmed people online by successfully using a Chuck E. Cheese card to get into her hotel room.
What's it really like working for the seasonal retailer?
A widely shared set of mugshots featuring several cast members of the long-running series The Vampire Diaries went viral, leading to plenty of jokes about the photos themselves and a writer for that franchise to push back against the story behind those photos.
The boots were made for mocking.
---
We crawl the web so you don't have to. Sign up to receive web_crawlr, a daily newsletter from the Daily Dot, in your inbox each day.
---
📺 Now Streaming
By Michelle Jaworski
Staff Reporter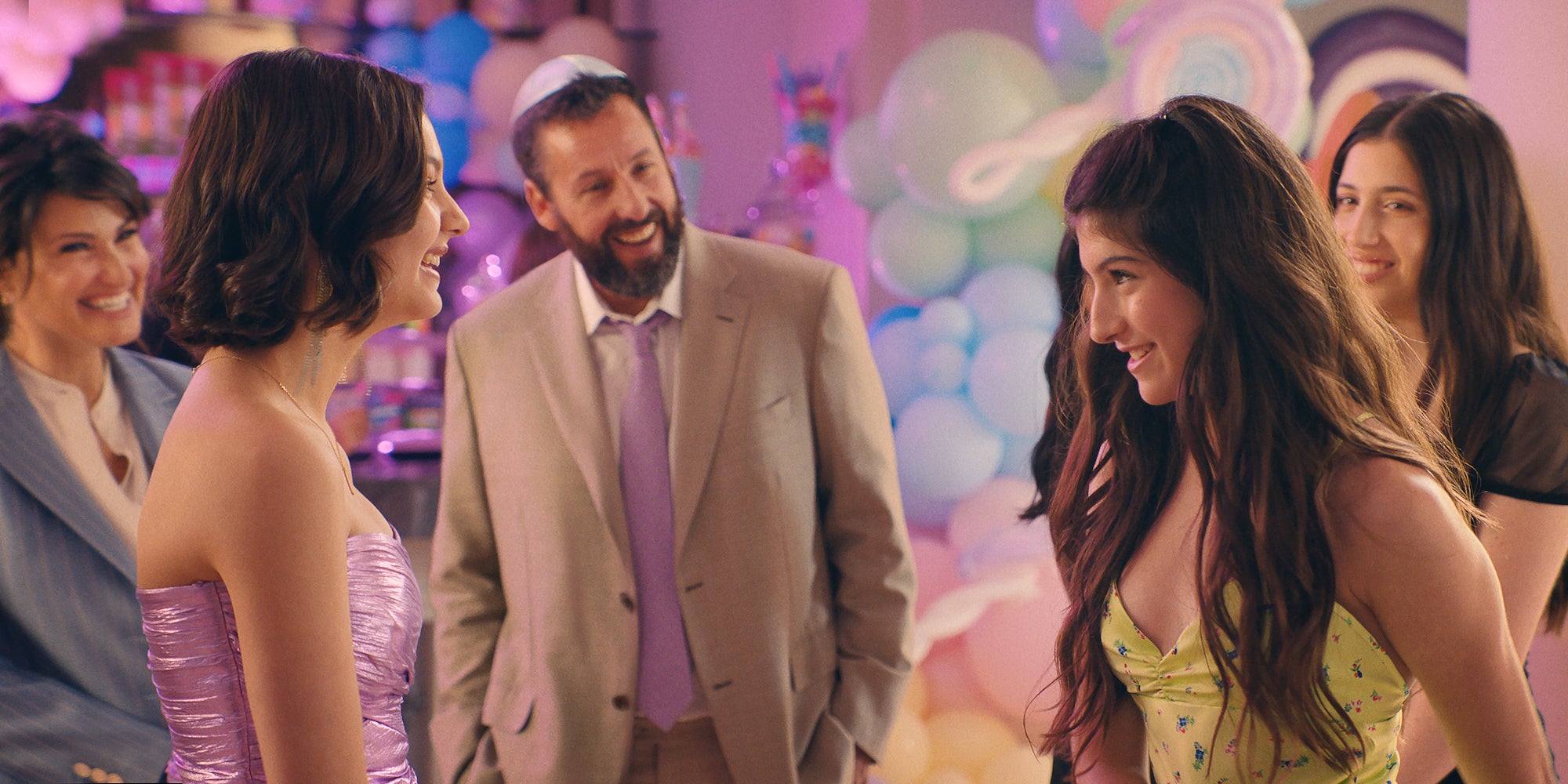 'You Are So Not Invited to My Bat Mitzvah' joins the echelon of preteen coming-of-age movies
In each edition of web_crawlr we have exclusive original content every day. On Wednesdays our Culture Reporters Audra Schroeder and Michelle Jaworski review or analyze the latest streaming content in their "Now Streaming" column. If you want to read columns like this before everyone else, subscribe to web_crawlr to get your daily scoop of internet culture delivered straight to you inbox.
---
🕸️ Crawling the web
Here is what else is happening across the 'net.
🧊 A McDonald's customer called out a drive-thru attendant for trying to charge for ice water.
🍴 What is the best day and time to go to Texas Roadhouse? We investigated.
🐔 This Costco customer has sparked discussion after claiming that they purchased an undercooked rotisserie chicken. However, commenters weren't too sure that the chicken was actually undercooked.
💼 The past several months have been brutal for U.S. workers. However, if you find yourself looking for work, a viral TikTok video predicts you will have the best chance during an upcoming "September surge" in open positions.
💵 A healthcare worker found out that she's making less than a Dollar Store worker and contemplated switching jobs just based on that.
🌈 Start your movie night binge-fest with some of the best LGBTQ movies and series you can stream right now on Amazon Prime.*
🍅 A mom is going viral for sharing a video where she claims spending $10 at Fazoli's to feed her family is cheaper than cooking.
💄 Perfume testers are essential to picking the perfect fragrance. Apparently, they are also perfect for shoplifting. One Ulta Beauty store is trying to mitigate the shoplifting of these items.
🤖 From the Daily Dot archive: Distorted TikTok sounds hurt marginalized creators—and AI is making it worse.
*The Daily Dot may receive a commission in connection with purchases of products or services featured here.
---
👋 Before you go
"It's all you can eat, not all you can waste." You've probably seen that message in buffet restaurants over the years. While it's understood that the food is meant to be eaten at the restaurant, maybe you've had a little devil on your shoulder whisper to bring a to-go container so you can take some home.
TikToker Bailie Rae (@bailierae.k) must've been persuaded to do so during her recent visit to a buffet restaurant by sneaking in some Tupperware containers and seeing if she could get the food out without arousing the ire and suspicion of employees.
She documented the attempt in a video that begins with her sneakily extricating a reusable to-go container from a purse. The clip then transitions to an under-the-table view of the action, showing Bailie Rae putting sushi piece by piece into the Tupperware, which she partially covers with a bag as she drops the food into it.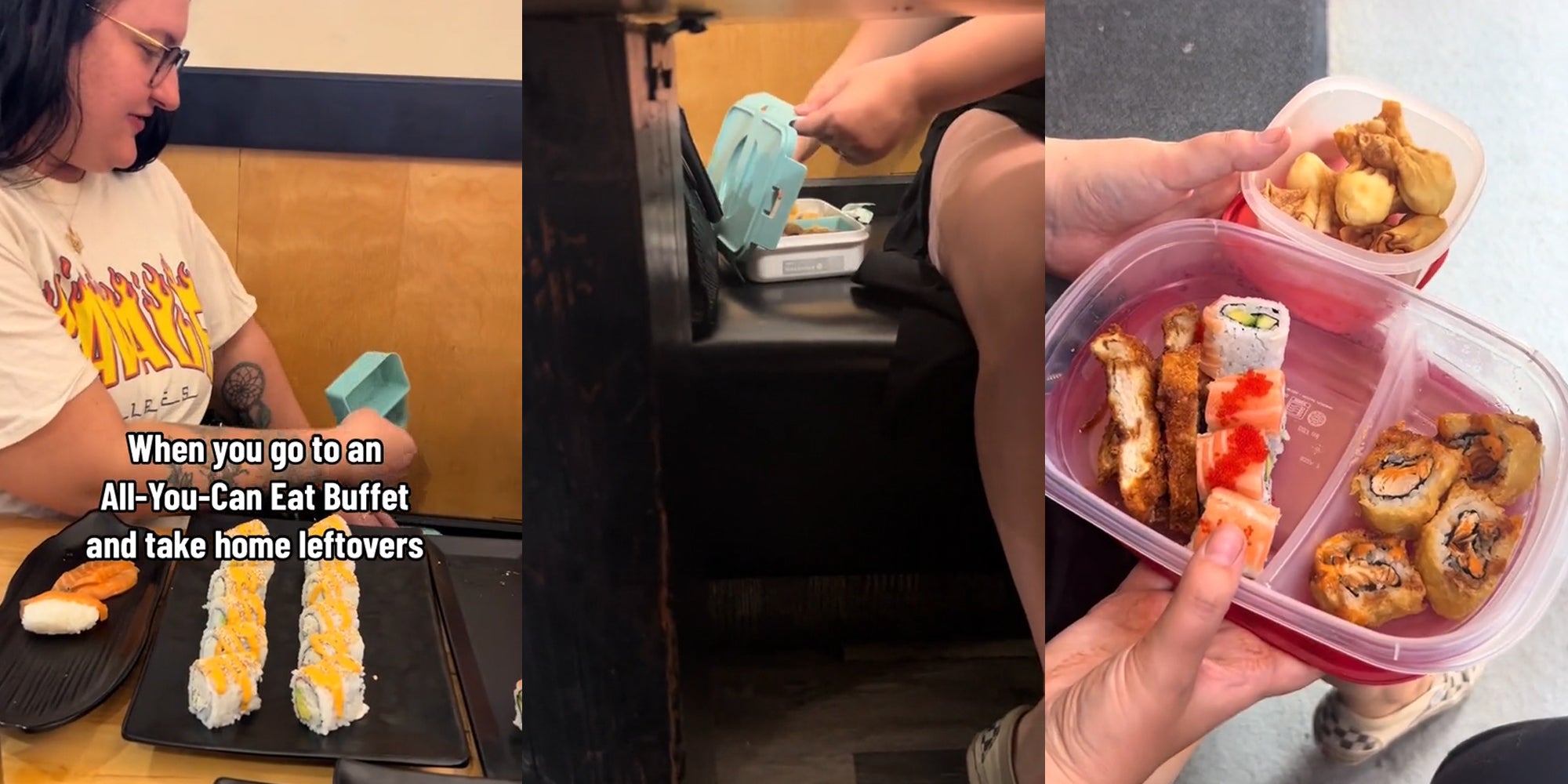 ---
🎶 Now Playing: "Silk Chiffon" by MUNA (feat. Phoebe Bridgers) 🎶