We crawl the web so you don't have to.
Sign up for the Daily Dot newsletter to get the best and worst of the internet in your inbox every day.
Hello fellow citizens of the internet! Andrew here. Welcome to today's edition of web_crawlr.
Our top stories today are about: A tenant going viral for showing how she found a snake skin on top of her kitchen cabinet, Rep. Marjorie Taylor Greene (R-Ga.) claiming Georgia is pushing for the death penalty for Trump (it isn't), a viral video sharing the secret of why ballpark hot dogs taste so good, and rumors swirling that Twitter (or X) is going to require ID verification soon.

After that, we are going behind-the-scenes here at the Daily Dot with a "Reporter's Notebook" Q&A with a familiar face: Claire Goforth, our investigative reporter. She's sharing with you the reporting process of her second story for the Daily Dot's new Hi-Res reporting division.
One last thing: If you didn't take our weekly news quiz yesterday, there's still time to take it! Just open yesterday's newsletter and answer the question. If you guess correctly, you might win a "Hot Blog Summer" shirt.
See you on Monday!

— A.W.
---
⚡ Today's top stories
"So I'm making breakfast, and I just woke up, and I'm like, 'What is that? That's weird,'" she says, referring to the hanging object. She then pulls the object down, revealing it to be a molted snakeskin.
Trump isn't facing the death penalty.
In a viral video, a parent shares an easy hack for making at-home hotdogs taste like what you get at a ballpark.
The feature would reportedly ask users to upload a photo ID and take a live selfie.
---
We crawl the web so you don't have to. Sign up to receive web_crawlr, a daily newsletter from the Daily Dot, in your inbox each day.
---
📲 Better living through apps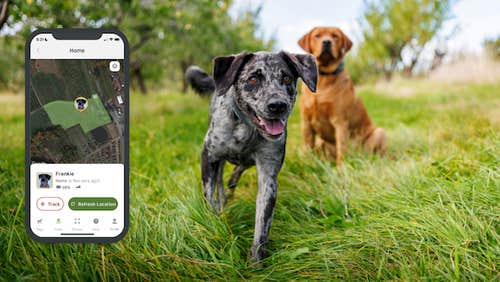 💰 SPONSORED
Freedom for them, peace of mind for you
Dogs were meant to roam. SpotOn lets them do just that with the world's most innovative dog fence. Featuring their patented True Location™ GPS technology, SpotOn fences allow dogs to explore while keeping them safe. Reliable, flexible, and easy to use, SpotOn lets your pup experience life unleashed.
---
📝 Behind the Scenes
By Claire Goforth
Investigative Reporter
The "Reporter's Notebook" column gives you a glimpse into the reporting process of major Daily Dot scoops and is exclusive to subscribers of web_crawlr. If you want to read behind-the-scenes content like this, subscribe to web_crawlr here.
---
🕸️ Crawling the web
Here is what else is happening across the 'net.
🍴 This Chipotle customer is getting a lot of attention online after claiming that they take monthly trips to the restaurant to "restock" on forks and napkins.
☕ A user on TikTok has sparked discussion after claiming he received "dirty looks all morning" after sitting down at a table at Starbucks. The reason? He was seated at the accessible table.
👀 A customer service worker went viral for sharing tips on how to annoy customers while remaining professional.
🚗 This customer alleges that Nissan dealerships are scamming their customers, and she asks viewers for advice on buying a car in 2023.
🪑 After a video of a customer eating alone went viral, viewers were quick to point out that there's nothing wrong with a table-for-one after a woman was unknowingly recorded looking "sad" at a restaurant.
*The Daily Dot may receive a commission in connection with purchases of products or services featured here.
---
🏳️‍⚧️ We want to hear from trans teens!
In light of the legislative battles and increased attacks on transgender rights, the Daily Dot's IRL team is taking a pulse of trans and nonbinary teens ages 13-20. Our reporting team is looking for transgender and/or non-binary teens to answer a poll about coming out to their parents.
Have you told your parents you're transgender and/or non-binary? If so, how did they react? And how did you tell them?
You can answer our survey anonymously. If you'd like to speak further, you can give us your email and we'll be in touch.
---
👋 Before you go
A user's clip on TikTok has gone viral and sparked discussion after alleging that her manager read her private messages and forwarded them to other co-workers.
Employers reading worker messages is nothing new. Earlier this year, a TikTok user virally warned employees that their employer can, in certain cases, read their Slack messages, even those that are considered private.
Now, an Australian TikToker has alleged that she experienced a similar privacy violation after lending her manager her personal laptop after her manager's laptop broke.
"She read my messages with my boss and sent them to other staff," says TikTok user Ocean (@oocean.e) in a video with over 883,000 views.