We crawl the web so you don't have to.
Sign up for the Daily Dot newsletter to get the best and worst of the internet in your inbox every day.
Hello fellow citizens of the internet! Andrew here. Welcome to today's edition of web_crawlr.

Our top stories today are about: A patient's viral video highlighting the issues with America's healthcare system, how an image of President Biden wearing shorts somehow became a political mini-drama, a tenant's viral video of a cockroach infestation, and how fans of Blue Beetle launched a fake publicity campaign because they believe Warner Bros. isn't promoting the film well.
After that, we've got a "Now Streaming" column from our Culture Reporter Audra. Down below, we've also got a story of a person who went viral for sharing their conspiracy theory about Chick-fil-A.
See you tomorrow!
— A.W.
---
⚡ Today's top stories
A TikToker is gaining attention after sharing the unreasonably long wait time their insurance provider had for booking a new patient appointment.
President Joe Biden wore swim shorts while lounging at a beach in Delaware on Saturday, a seemingly unimportant event that has somehow become the latest political mini-drama.
A mother detailed her horrifying experience dealing with a roach infestation in her apartment in a series of viral videos.
This DC superhero movie comes out next month. Have you heard of it?
---
We crawl the web so you don't have to. Sign up to receive web_crawlr, a daily newsletter from the Daily Dot, in your inbox each day.
---
📺 Now Streaming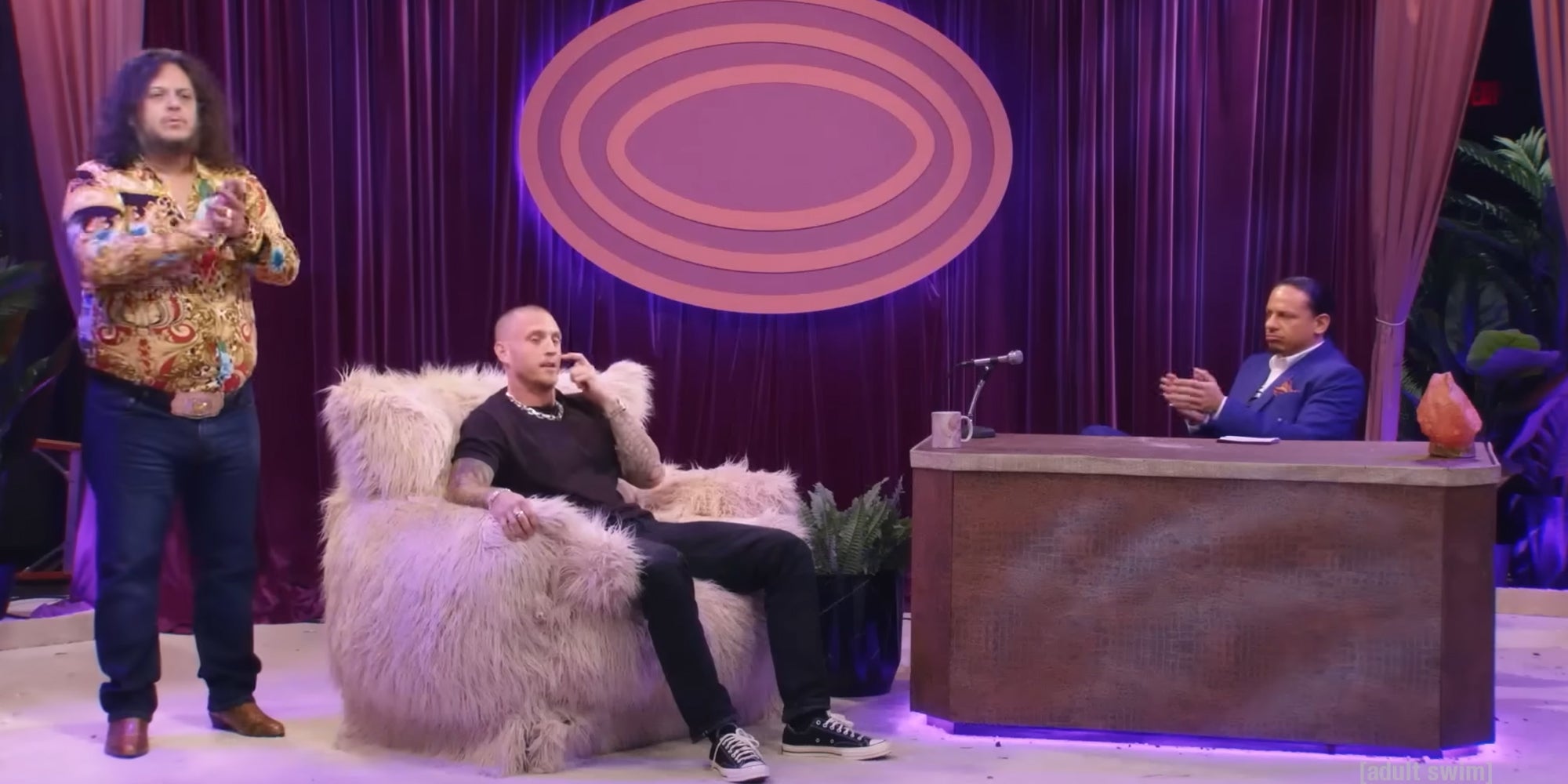 'The Eric Andre Show' is still the best late-night show
In each edition of web_crawlr we have exclusive original content every day. On Wednesdays our Culture Reporters Audra Schroeder and Michelle Jaworski review or analyze the latest streaming content in their "Now Streaming" column. If you want to read columns like this before everyone else, subscribe to web_crawlr to get your daily scoop of internet culture delivered straight to you inbox.
---
🕸️ Crawling the web
Here is what else is happening across the 'net.
🥤 Find a more compelling TikTok video caption than this, we dare you: "I've spent two hours trying to get grimace shake out of the concrete."
🏨 Have you ever left something behind at a hotel? If so, there's a PSA that's been created just for you.
💵 An app delivery driver has gone viral with a video that illustrates why he no longer takes orders with a tip under $10.
🍎 This TikToker believes she has proof that we are, in fact, in a recession and her evidence is a bag of McDonald's apple slices.
🍿 We scoured the internet for the best streaming platforms for every anime addict.*
🎒 One woman got fired from Gold's Gym for an unexpected reason: A customer stole her backpack.
🛒 A Costco customer went viral after rebuking the store for manually checking customers' membership cards at the self-checkout.
💰 From the Daily Dot archive: How a cryptocurrency fortune crippled a deceased billionaire's estate.
💅 Canadian rapper Drake got a fresh pink manicure set in preparation for his "It's All A Blur" tour with fellow rapper 21 Savage. Men on the internet had strong reactions to the photos.
*The Daily Dot may receive a commission in connection with purchases of products or services featured here.
---
👋 Before you go
A user on TikTok has gone viral after claiming to have uncovered a conspiracy at the fast-food restaurant Chick-fil-A.
According to TikTok user Jenna (@hellojennawood) in a video with over 403,000 views, the actual number of fries one gets from a kids, medium, and large order at Chick-fil-A is basically the same.
"We've always had a sneaky suspicion that no matter what size fry you get, you have the same amount of fries every time," the user writes in the text overlaying the video.
Over the course of the video, the TikToker reveals that each size upgrade is either about the same size or contains a small number of extra fry pieces. Even with the occasional extras, Jenna says that the few extra fries do not justify the higher cost.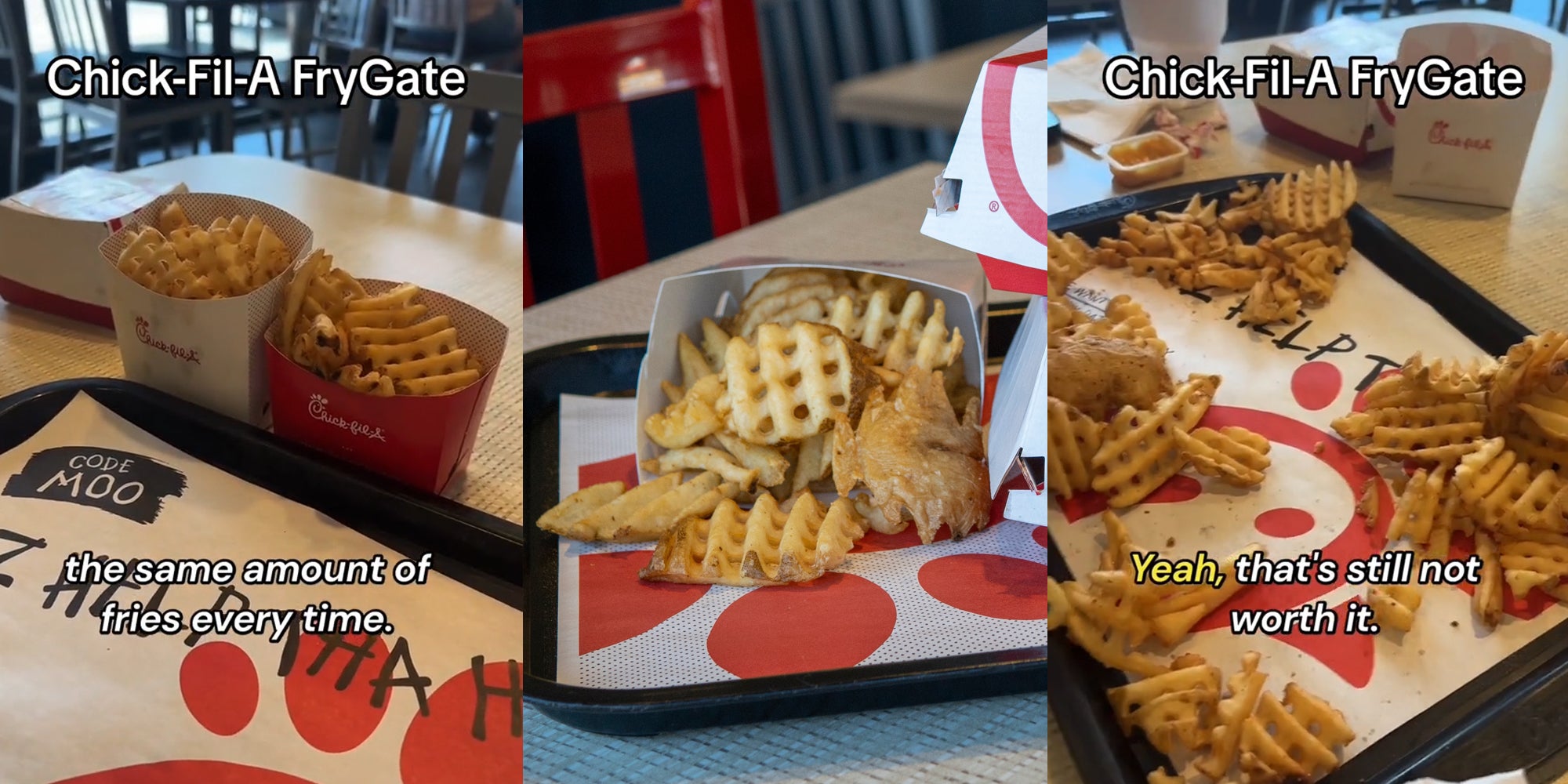 ---
🎶 Now Playing: "Up" by Cardi B 🎶