We crawl the web so you don't have to.
Sign up for the Daily Dot newsletter to get the best and worst of the internet in your inbox every day.
Hello fellow citizens of the internet! Andrew here. Welcome to today's edition of web_crawlr.

Happy Friday! Our top stories today are about: A renter claiming that their landlord raised their rent 22.5% to fund their "lifestyle," how Donald Trump Jr.'s trip to Australia was delayed after an online petition to block him from visiting went viral, a woman who was captured on video yelling at an airplane full of passengers about someone or something that wasn't there, and how Bravo fans reacted to a couple's recent rumored separation.
After that, our Culture Editor Tiffany has a "This Week on the Internet" column for you.
And, of course, it's also time for our weekly news quiz. Scroll down below to to answer the question! If you guess correctly, you might win our brand new "Hot Blog Summer" shirt.
See you tomorrow!
— A.W.
---
⚡ Today's top stories
A renter has sparked discussion after claiming that her landlord increased her rent by 22.5% to "pay for her and her adult daughter's lifestyle."
The last-minute postponement comes as a Change.org petition seeking to ban the former president's eldest son from Australia garnered more than 22,000 signatures.
A woman, who appears intoxicated, was captured yelling at an airplane full of passengers that she had seen someone—or something—that wasn't there before leaving the plane prior to takeoff.
While there are many rumors circulating around the pair's separation, Bravo fans predicted the split a long time ago.
---
We crawl the web so you don't have to. Sign up to receive web_crawlr, a daily newsletter from the Daily Dot, in your inbox each day.
---
🌐 Take our weekly news quiz!
Are you the most online reader of web_crawlr?
Prove it by answering our question of the week! The answer can be found somewhere in one of our newsletters from this week.
If you answer correctly, you'll be entered to win our brand new "Hot Blog Summer" shirt, and we'll shout out five people who won the shirt!
A recent viral video claimed that a new high school graduate was denied a diploma because of an outstanding laptop repair fee. How much was the fee?
Think you know the answer? Sign up for web_crawlr so you can answer next week's question!
---
🗣️ This Week on the Internet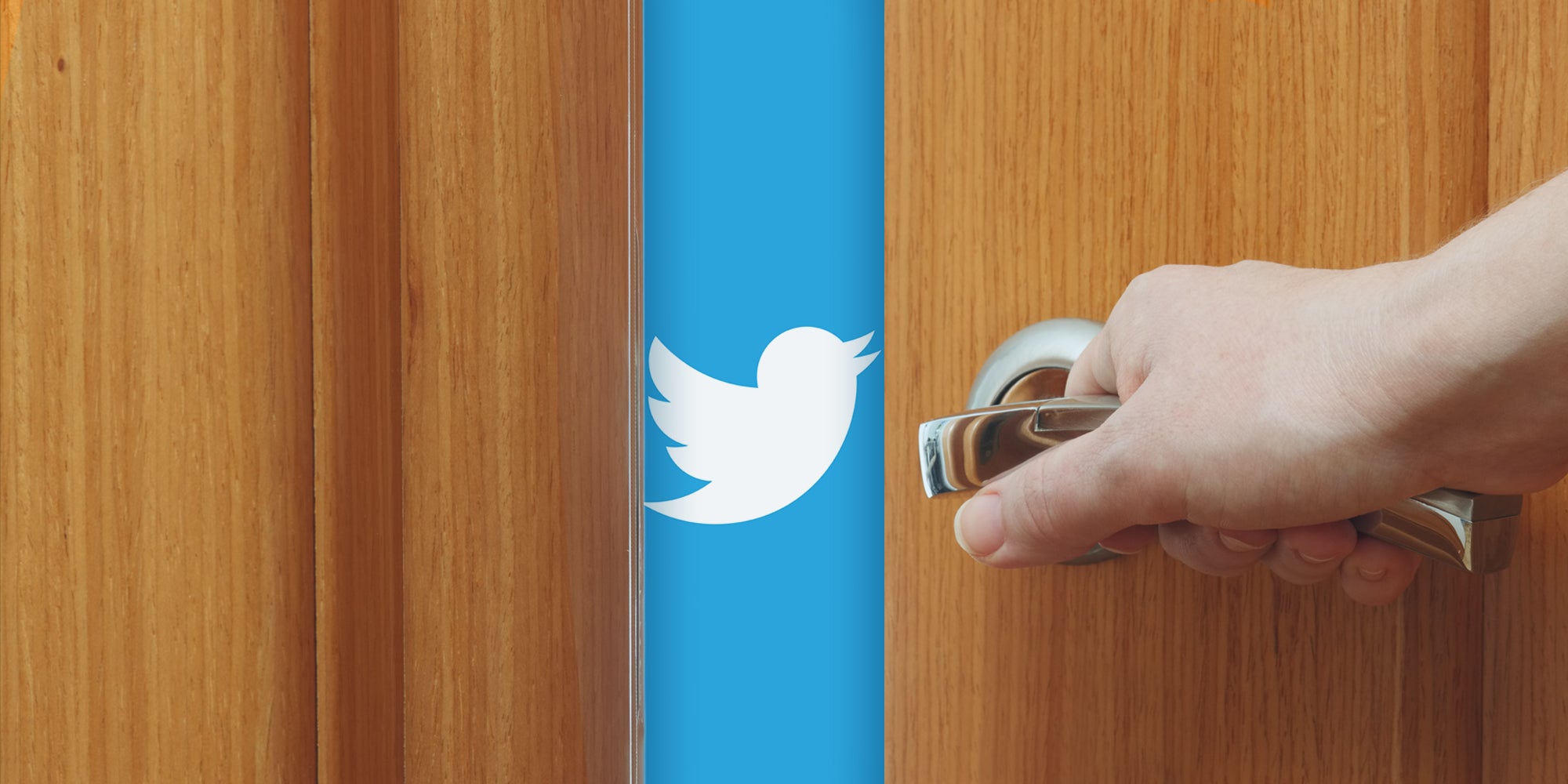 Which app will become the biggest threat to Twitter?
In each edition of web_crawlr we have exclusive original content every day. On Fridays our Senior Culture Editor Tiffany Kelly recaps the most pressing online discourse of the week in her "This Week On The Internet" column. If you want to read columns like this before everyone else, subscribe to web_crawlr to get your daily scoop of internet culture delivered straight to you inbox.
---
🕸️ Crawling the web
Here is what else is happening across the 'net.
🍗 In a viral video, a KFC customer requested to "speak to the manager"—but it backfired.
☕ A Starbucks worker has a simple solution for speeding up drive-thru lines—now it's just a matter of whether customers will follow his advice.
💰 Do you get paid biweekly or per month? What strategies do you have for making it through to payday?
🔧 A mechanic has viewers divided over the boundaries of transparency for unplugging a dashboard camera while repairing a vehicle.
🍞 Texas Roadhouse customers with "$18 in their bank account" filmed themselves sharing a dozen rolls in a parking lot. It's more common than you think.
💎 This 'champagne of pepper grinders' is the ultimate flex for bougie kitchens.*
💼 A former JP Morgan worker revealed why she quit her job after six years—because, as she depicted it, there was no "upward mobility" for her.
📦 If you're moving and need to clear out a lot of belongings, Facebook Marketplace might be able to help you.
✏️ From the Daily Dot archive: Here's a look at the wild history of fanfic censorship.
*The Daily Dot may receive a commission in connection with purchases of products or services featured here.
---
📅 Meme of the Week
If you've heard the term "Q3" multiple times this week, this meme is for you.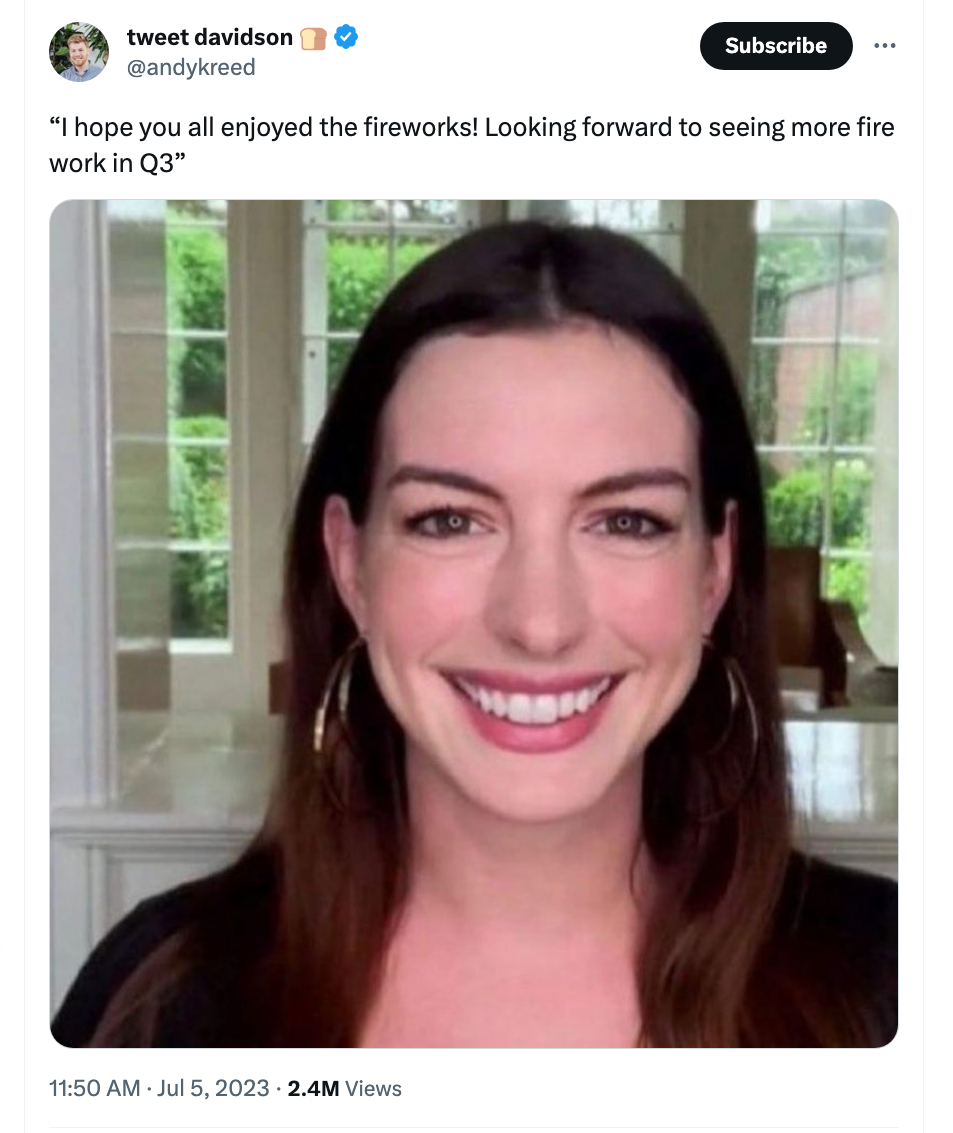 ---
🎶 Now Playing: "Crush" by Ethel Cain 🎶