I can't bring myself to delete my father, but I think about it often.
This isn't something I anticipated when I began using Facebook roughly five years ago. It was a family-free zone, and I treated it as such. Last year, studies suggested that teenagers might be leaving Facebook because their parents are now joining the site, sending them running to more image-heavy alternatives like Snapchat, Instagram, and now Whisper. But I'm well into adulthood, and my 71-year-old father is embarrassing me on Facebook.
A recent Pew study showed usage among seniors 65 and over has increased on Facebook in the past year. I was conflicted when I saw his friend request. He's a member of the NRA and a hardcore conservative. I cringed at what I would see on my feed. There were a lot of posts from MrConservative.com, and one in which he tried to troll Bill Maher. My father is on Facebook more than I am. 
In the past, my dad's been a threadkiller, leaving comments on status updates that either embarrassed or flummoxed me. Instead of turning red with teenage embarrassment, I feel a warm dread when I see a digital notification. Recently, he commented on my post about the new Beyoncé album: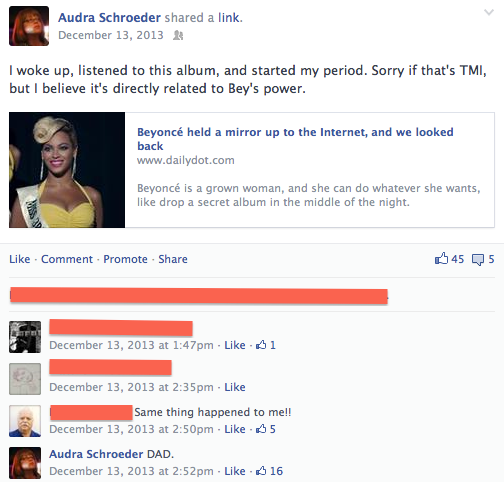 My father and I have never discussed my menstrual cycles, and yet here we were. 
Is this a generational etiquette gap? As a man in his 70s, he doesn't have a whole lot of real-life friends, and my mother has no interest in the Internet, so Facebook is his escape. Other friends my age remarked on a similar lack of social awareness from their parents, such as "liking" everything they post, regardless of context.
When I was home for the holidays, I had to sit him down for a "talk." The roles were reversed, and I was giving my father a what-for about something he'd done. This felt fundamentally wrong, but necessary. I asked him what he thought about teenagers fleeing Facebook.
"I'm not surprised teens would flee. That would be like parents showing up at a party."
"Right," I said. "And do you ever think [my sister] and I are embarrassed by you showing up to the party?"
"I have become cautious of my comments and replies on Facebook and YouTube. I stick to clarity and fact, no opinions, especially political."
"You're on YouTube too?" I asked.
"Yes, and I'm thinking about opening up Twitter and Myspace accounts."
"Myspace?"
A new app called Family Matters separates posts from family and posts from friends, effectively circumventing those moments when parents are threadkillers. I thought about downloading it, just so I could have some peace of mind when I post about things like Beyoncé and my period. But then I thought about his comments.
My relationship with my father has always been one based on comedy—he loves an anecdote, and making someone laugh. He was the first person to introduce me to Steve Martin, George Carlin, and Bill Cosby. I think he's always wanted to be a writer, but he had to work other less stimulating jobs to help raise three kids.
While I'm thankful social media didn't exist when I was a teenager, the more I thought about my dad's comments, the more I realized that this was his way of connecting with me, as an adult, and a professional writer—something he never got to be.
He's getting on in years, and won't be around forever. This is part of our relationship now, of me learning about him as well. I don't want to delete that. 
Illustration by Jason Reed