Cuties, the French film from director Maïmouna Doucouré that garnered critical acclaim and an award at Sundance but has been at the center of controversy over the past few weeks, is now on Netflix. And while people now have the chance to watch the film for themselves, the controversy that emerged from Netflix's marketing has resurfaced with an out-of-context clip and calls to cancel Netflix.
The clip, which takes place toward the end of the film, shows the four girls who make up the "Cuties" (including Amy, the film's protagonist) performing in the dance competition they spent much of the film preparing for. They're dressed in the kinds of clothes that wouldn't be out-of-place in a music video as they perform the routine, which includes dance moves they learned from watching videos on YouTube.
The original clip, which is part of a thread that accuses Netflix of "normalizing pedophilia" and includes several clips from the film, has been viewed more than 1 million times. It also went viral after a Daily Caller reporter shared it with the comment "Netflix is comfortable with this." The hashtag #CancelNetflix is now trending as people cite the film as to why they're canceling their Netflix accounts. A Parents Guide to Cuties on IMDb (which anyone with an account can add suggestions to) also went viral.
The dance routine is uncomfortable to watch, but within the context of the film, that's the entire point of it. The 100-second clip that went viral shows the audience—mainly composed of adults—visibly uncomfortable watching a group of 11-year-olds dance like they're in a music video and there are audible boos. (It's similar to Olive's dance scene in Little Miss Sunshine, and in that case, the judges and audience are also uncomfortable with Olive's performance.)
There are flashes of horror and disgust on the faces of much of the crowd watching the Cuties perform, but that clip isn't the entire scene. Soon after the viral clip cuts off, there's a shot in the crowd of a mother trying to shield her daughter from seeing what's happening onstage. Even Amy, who can't finish the routine, is visibly upset by it; she leaves her friends on the stage in tears and runs home.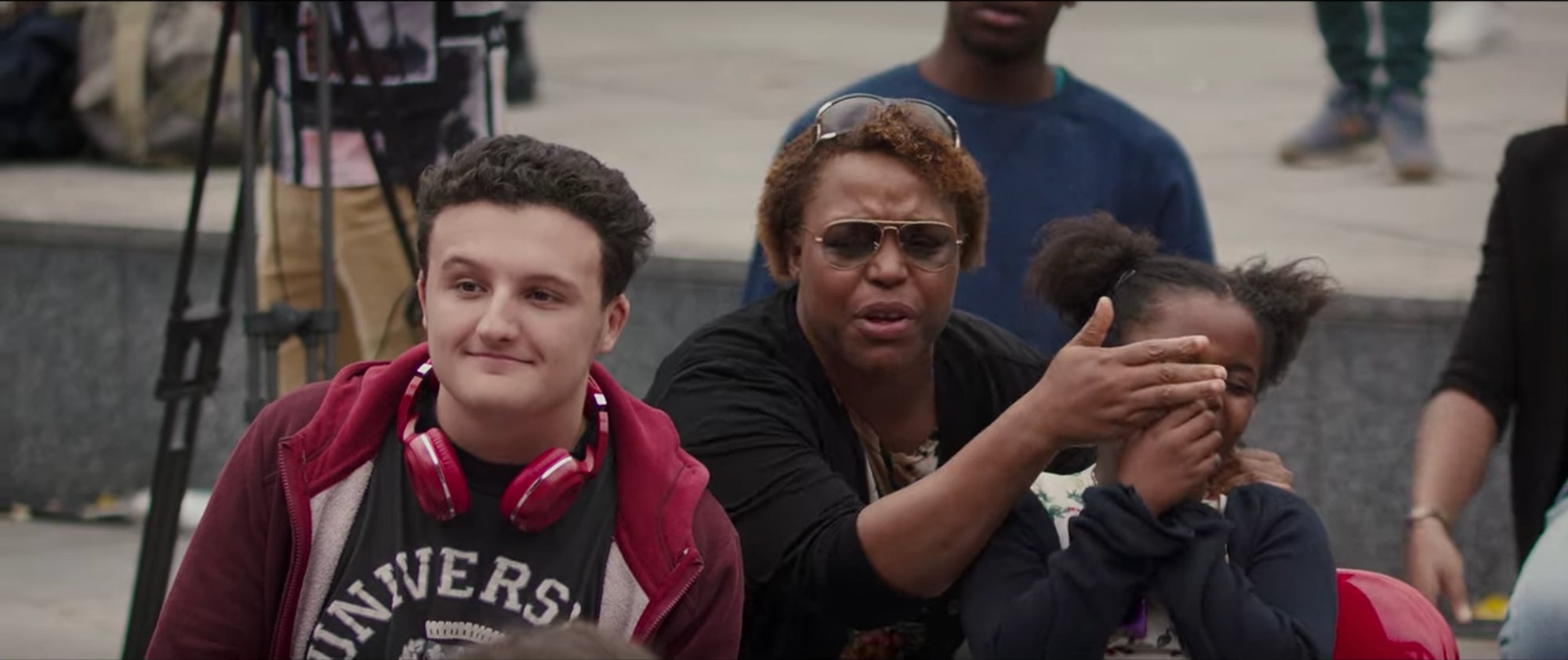 The call to cancel Netflix over Cuties isn't new. It's a reemergence of the original critiques of the film from last month after Netflix, which did not make Cuties but purchased the global rights to it (outside of France) ahead of its Sundance premiere in January, released a poster with the four girls twerking in their competition outfits.
The poster had a much different tone than the poster for its theatrical run in France and it garnered widespread criticism. At that point in mid-August, very few people had seen Cuties outside of festivals like Sundance and the Berlin International Film Festival, so the only thing that most people had to base their opinion on was the poster and the trailer that accompanied it. While some people accused Netflix and Doucouré of sexualizing young girls, others, such as the critics who had actually seen the movie and actress Tessa Thompson, defended the film as a criticism of how society sexualizes young girls while calling out Netflix for how it marketed it. Netflix eventually apologized for the poster.
"I received numerous attacks on my character from people who had not seen the film, who thought I was actually making a film that was apologetic about hypersexualiation [sic] of children," Doucouré told Deadline about the backlash, noting that Netflix co-CEO Ted Sarandos apologized to her personally. "I also received numerous death threats."
The entirety of Cuties is a critique of how society hypersexualizes children and how social media can affect their world view. Amy is a young Senegalese Muslim girl who moves to a new neighborhood and a new school, and for much of the film, she's torn between her more conservative family upbringing and the more liberal world that the Cuties embody. Throughout the film, Amy is shamed by her family, the Muslim community she's part of, her friends, classmates, and complete strangers for what she does; she's punished for trying to discover who she is because she doesn't adhere to other people's expectations. While it features Amy and her friends dancing across the film, none of it is an endorsement.
For Doucouré, Cuties was a personal story, but she also interviewed preteen girls about their perceptions of feminity and social media as part of the filmmaking process. She called it "the story of many children who have to navigate between a liberal Western culture and a conservative culture at home," and noted that she also got "extraordinary support" for the film from the French government.
Now that the film is out, people can watch it for themselves. But chances are, at least some of the people calling for Cuties and Netflix to be canceled haven't watched the movie or are relying on out-of-context clips to relay what the movie is about; they're citing guides that anyone can edit with perceptions of certain scenes. They might even peddle false conspiracy theories.
They might not have even been aware of Cuties if the poster had gone viral; the film traveled to two film festivals where it was largely praised without major controversy and, according to Doucouré, had a positive reception after it was released theatrically in France. But at this point, many of the people who are calling for its cancellation probably don't want to engage in a nuanced conversation about it. Likely, their minds are already made up.
Update 6:27am CT, Sept. 11: A Netflix spokesperson tells the Daily Dot: "Cuties is a social commentary against the sexualization of young children. It's an award winning film and a powerful story about the pressure young girls face on social media and from society more generally growing up – and we'd encourage anyone who cares about these important issues to watch the movie."
---
Today's top stories