Hey girl, how bad do you want that telescope? That Meade 5.1-inch altazimuth reflector, complete with motorized and computerized "Autostar" technology. Would you, ahem, adhere to some alternative forms of payment for it? 
If the answer is yes, then we've got a Craigslist classified for you. 
There's a nerd in Nassau County, New York, who wants to sell you a telescope. Complete with all the amenities aforementioned, the listing offers a software disc, aluminum tripod, accessory tray, built-on spotter scope, and a Super Plossl 1.25-inch eyepiece. 
"If you're an astronomy buff, star gazer, a nerd or you just always wanted one," he writes, "this is your chance." 
There's a catch, however.
On Craigslist, there's always a catch. 
This nerd doesn't want to sell you his telescope, which originally put him out more than $600 upon purchase. He wants to "GIVE it to you"—if you're disease-free and open-minded and have a picture, "which can be clothed."
"As I am looking to trade with a female, use your imagination. We can discuss and come to a mutual agreement."
Click to expand: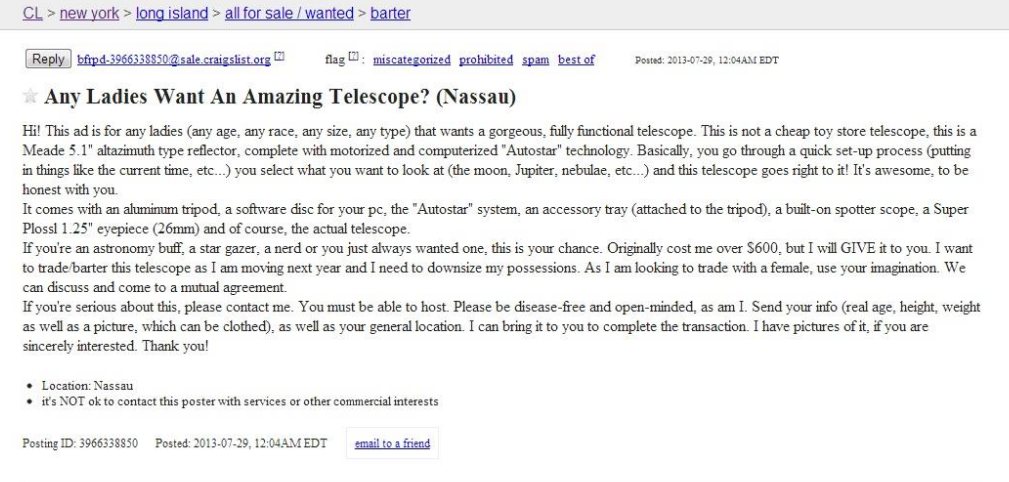 H/T r/Craigslist | Photo via orofacial/Flickr | Remix by Fernando Alfonso III