It must have been a match made in the afterlife, if not heaven.
With time running out at this week's Penny Arcade Expo, one young man turned to Craigslist to hookup with a gal open-minded enough to "try something weird" and screw a dude dressed like Beetlejuice. 
The unidentified 29-year-old desperately sought a "clean" woman with a free room and—for bonus points—a costume of her own. Helpfully, he included a photo of himself looking like a cross between Fat Mike of NOFX and the Michael Keaton character whose costume he adopted.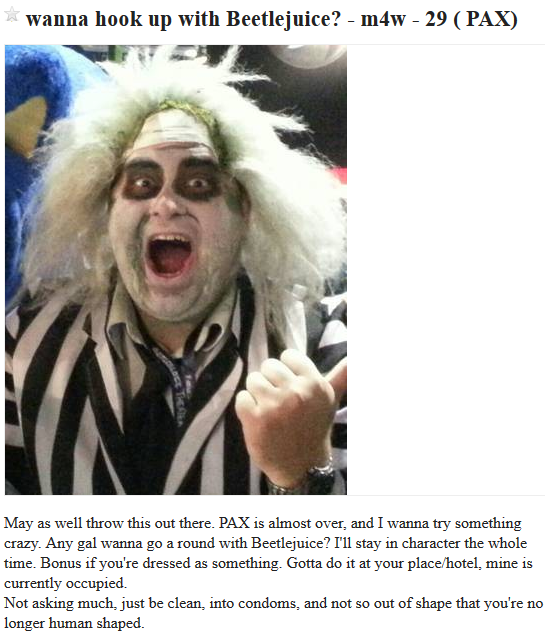 It is not clear if anyone took up this guy's offer. However, if a lady did, she can take comfort in knowing that he was only the second-creepiest dude dressed as Beetlejuice recently, after Robin Thicke wore an identical suit for his MTV Video Music Awards performance with Miley Cyrus last week.
This year for Halloween I would be Miley and my imaginary boyfriend would be Robin Thicke. Or Beetle Juice. pic.twitter.com/f6SR0G8j12

— Sandy From the Block (@CassandraDucote) August 31, 2013
Robin Thicke sure was Beetlejuice last night in that suit 😂😂 I can't ..😂😂 #VMAs pic.twitter.com/vRZcmmJwaf

— Miles J (@meerkatmiles) August 27, 2013
Screenshot via movieclips/YouTube