Is Facebook the new Kickstarter for babies? For a Louisiana couple, it sure is.
On the waitlist for adopting a baby for months, Jake and Jessica Hance were given a few days' notice that a child's birth mother was going into labor and they were eligible for the child. The soon-to-be parents were ecstatic, until they realized how much the agency was charging them for the kid: $33,000.
So, they turned to Facebook for donations.
The Lake Charles residents started a group that collected more than 500 likes. Culled from donations through generous friends and strangers, they hit their goal in just three days.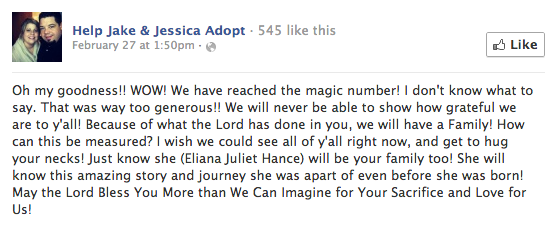 "We thought why don't we build a Facebook page?" asked Jessica, titling it "Help Jake and Jessica Adopt."
After years of emptying their wallets on doctor visits and fertility treatments, the Hances told KPLC-TV they turned to adoption in an effort to attain their dream of being parents. They began the adoption process more than two years ago, and were beginning to feel frustrated by the long wait.
They finally heard from the agency last week after the birth mother of their new baby rejected all other candidates.
"There's no other explanation for it, but God's hands are totally on this," said Jake. "A few days ago, we were ready to throw in the towel and a few days later, God met the need."
On Sunday night, the couple returned to their Lake Charles home with a little girl named Eliana and thanked their friends on the Facebook group.

Now, who wants to chip in for diapers and clothes?
Photo via Help Jake and Jessica Adopt/Facebook