Cory Monteith, the 31-year-old actor who played Finn Hudson on Glee, has died in Vancouver's Fairmont Pacific Rim hotel. News of Monteith's death surfaced around 1:15am on Sunday, when Vancouver police announced the death of "a Hollywood actor" via Twitter.
Update: The British Columbia coroner says Monteith died of a "mixed drug toxicity, involving heroin and alcohol."
Here is video of the BC coroner announcing the cause of Cory Monteith's death https://t.co/bWZSkSVdF7

— BuzzFeed News (@BuzzFeedNews) July 16, 2013
In a late-night Livestreamed press conference attended by more than 16,000 people, acting Vancouver Police Chief Douglas LePard announced that ambulances were summoned to the Pacific Rim around noon Saturday, where Monteith was determined to have been dead for several hours.
"As was the case in countless homes, I watched Glee regularly with my daughters, and I know there will be shock and sadness in many households with the news of his tragic death," LePard read from a prepared statement.
Screengrab via Livestream
Police could not confirm the exact cause of death, but found no signs of foul play. Monteith had successfully completed a drug rehabilitation program in April. Police did not comment on whether anything in the room indicated that Monteith died of a drug overdose.
Monteith was born in British Columbia, and was a frequent visitor to Vancouver. Although he and costar Lea Michele had been dating for roughly a year, police did not confirm whether Michele was with him at time of death.
The news comes just days after Glee creator Ryan Murphy announced that pop star Adam Lambert would be joining the show for its fifth season. Monteith's Glee costar Mark Salling, who plays Noah Puckerman on the show, was the first cast member to react, tweeting simply, "No."
no

— Mark Salling (@MarkSalling) July 14, 2013
On Twitter, #RIPCoryMonteith trended in the U.S., along with several other references to Glee and its cast members.
On Tumblr, Glee fans were distraught, with many reacting to the news with tears. Tumblr user justclarra posted a picture of a cake alongside words of support: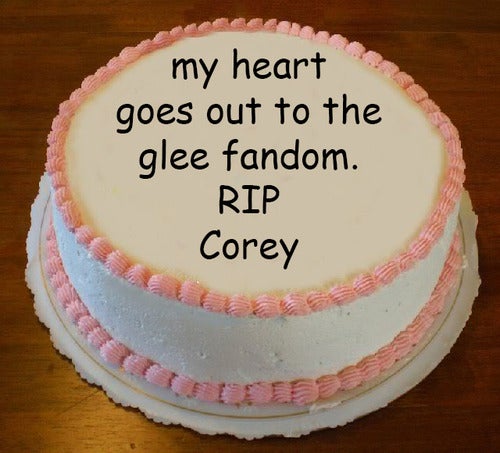 Photo via justclarra
RIP Corey. <3 I'm so sorry gleeks you've lost a very amazing young man. My heart goes out to you all and to his family.
"The entire Glee fandom, close [your] eyes," wrote Tumblr user slythadorgirl. 
We're all sitting in the choir room, holding hands, lighting candles and helping each other get through this. This is tragic news and we're a family. 
Photo via vagueonthehow/Flickr