As you probably know if you've spent any time in fandom lately, the Teen Wolf fandom has been extremely vocal for months on the subject of Sterek, their favorite pairing that isn't actually on the show. Those who ship the show's male leads, Derek and Stiles, have turned the couple—dubbed "Sterek"—into a massive fandom all on its own. It even has its own theme song.
Sterek fans want their ship to become canon—that is, to actually occur on the show and not just within the annals of slash fanworks.  Show creator Jeff Davis has famously stated that if enough fans "demanded" the pairing, he "could be persuaded" to make Sterek a narrative priority. Later, when a fan offered to bake him cookies if he made Sterek part of the Teen Wolf canon, he replied, "I love cookies. Especially chocolate chip."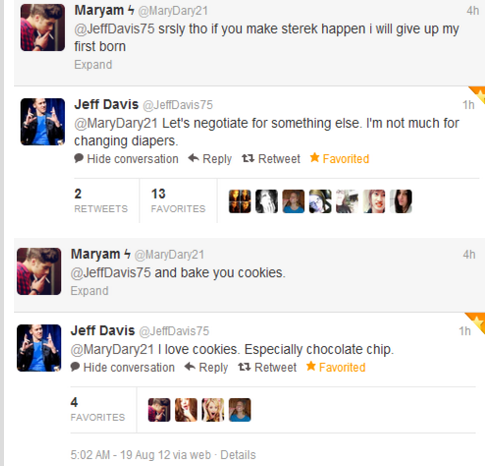 #CookiesforSterek is taking him at his word.
Fans launched a massive project called The Sterek Campaign, and its goal for September is to make sure Davis gets his cookies. Cookies for Sterek also created a promo and kicked off a cross-platform social media campaign to get the word out. Fans responded in droves, submitting 450 entries of themselves with cookies and messages for Davis and the show. On Sept. 17th, right on schedule, they trended #cookiesforsterek on Twitter in the U.S. and other countries. That same night, in a UStream livecast to celebrate the project, participant Michael, a.k.a. Mighty Wolf, began and ended the program with a literal howl of triumph, later calling for other fans to join in:
"[A]t the end, [Michael] encouraged everyone watching to wrap up the event with a nice long, loud howl. You guys obliged, and it gave us chills to see everyone howling together in real time!! GO PACK!!"
If the campaign can seem a little like zealotry at times, it's important to remember that Teen Wolf's production marks the first time in history that the creator of a U.S. television show has not only courted fans of a queer pairing, but informed them that it might actually happen.
Although mainstream Hollywood has recently improved queer visibility, with characters like Kalinda on The Good Wife and shows focusing on gay men like Glee and The New Normal, letting gay relationships evolve naturally over time is still a novel thing. Often, if fans get any nod to the existence of queer characters whose sexuality isn't explicitly a part of the storyline, it's through subtext only. Occasionally, validation occurs in a separate, fan-designated space, like the Battlestar Galactica webisodes, or the infamous "Dumbledore was gay" declaration that J.K. Rowling made only after the Harry Potter series had ended.
Teen Wolf is different from all of these things: A show without a predetermined queer storyline that might actually be tempted to write one in because of its popularity with the fanbase. If Teen Wolf goes this route and fans are pleased with the results, it could influence other shows with huge fan followings to reconsider relegating their slash ships to winks and nods between the lines.
The Sterek Campaign has accordingly pulled out all the stops. They've been hosting monthly "Calls to Love," different projects designed to show Davis how many Sterek fans are out there and get them to engage with the campaign in different ways. From the project's mission statement:
The goal of The Sterek Campaign is to ensure that Jeff Davis is aware of just how much the fans would support him if he were to make Sterek a canon couple—we want an "established will-they-won't-they, scripted" relationship, and to get that we need to make our voices heard.
The campaign has other ideas in progress already, such as next month's campaign, "Howls for Sterek." Later on, the group has plans for a wolf-related charity campaign.
So was the cookie campaign "successful?"
Well, no one's confirming that Sterek's going to happen in Season 3 of Teen Wolf. But the campaign's stated goal, at least for now, was to get #cookiesforsterek trending, which they did. And, of course, to make sure Davis noticed them.
Davis' reaction? "Mmm… cooookies."
Sounds like they're off to a promising start.
Photo via Sterek Campaign