Beth Cook is a dating coach and throws private dating events for San Francisco's most awesome and unattached. She also writes and draws about her own dating experiences. Want advice? Have advice? Send her an email.
"I am sooooo glad that I don't have to date. My girlfriends say that it is really hard these days," a married woman told me this week. This isn't the first time I've heard someone married exclaim how hard dating looks, or for that matter, a singleton complainging about how hard it really is. It happens constantly.
It's true that it's hard. It's always been hard. We need all the help we can get. And boy, are tech startups trying to meet those needs. But do we really need more sophisticated dating sites and apps?
New fangled technological dating aids pop up nearly each week. This week it's "Crazy Blind Date," an app by OkCupid that helps impatient singles get immediate dates. What's new here is the mobile "blind" part (yikes). Most people think blind-dates are the worst form of dating. Should an app really focuses on facilitating that? I'm not so sure.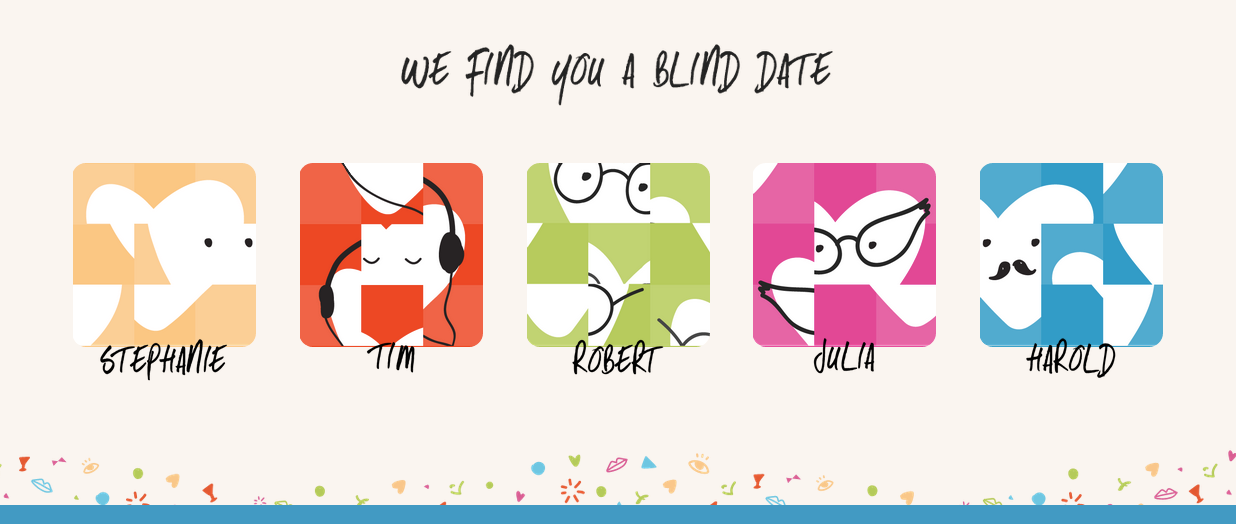 The "immediate" part is also perplexing. Watching football in your boxers? Not anymore you're not, you suddenly have the urgent need to … go on a blind date. Just sign into the app, pick a pub, and presto, you've got a date! Don't worry about who it is or what they look like. The important thing is, you've got a date. Now. OkCupid says, "It's cool. We know what we're doing."
I wonder if anyone at OkCupid has been on an OkCupid date.
Frankly, I already feel like I'm shooting in the dark by using dating sites to meet potential mates. The people who show up tend to be a lot more complex (read: neurotic) than their profiles suggest; some look wildly different than their photos.
What girl in her right mind would use this app? None that I know. "Crazy Blind Date" seems like a last ditch possibility for guys whose visible profiles aren't getting bites. If you're truly desperate for a date right now, and don't care who it's with, this app is for you. The app is fittingly named—it seems like the PERFECT place to get a just that, a crazy blind date.
Do we really need more, less human ways to connect with each other? Isn't online dating impersonal or immediate enough?
My friends agree (both gals and guys) that dating sites and apps are great for hookups, but they prefer more traditional, IRL methods of meeting and communicating with people when they're looking for something meaningful and long-term.
So why don't we tailor our date-seeking methods to match the results we want? Go to wine tastings, movie festivals, night-time museum events, bars, and subscription-based dating sites you like and respect to meet someone you're interested in having a relationship with. Cruise the free sites like OkCupid and apps like "Crazy Blind Date" for funny stories and hookups. Makes sense, right?
The reason I began sharing dating wisdom in the first place is because my college housemates asked me why I would get asked out on dates while they only got drunk makeout sessions at parties. "Because I don't make out with guys at parties," I said.
Match your dating tools to your dating goals, and you'll like the results.
Photograph by BigStockPhoto