The small plastic pouch of ketchup that you just squeezed onto your burger is a work of art.
The Condiment Packet Gallery is an online display that features over 700 different condiment packets. From ketchup to mustard, hot sauce to mayonnaise, the subjects of the Condiment Packet Gallery give literal meaning to the term "priceless."
But eight years ago, its curator ditched the museum, leaving the archive online for Internet archaeologists to ponder. And just last month, it disappeared.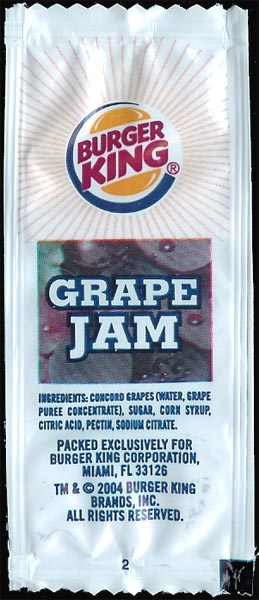 The gallery was started by suburban Philadelphia resident Chris Harne in 2003. The collection began when he began to hoard ketchup packets in an effort to stop spending money on the condiment. It racked up years of dedicated packet collecting. 
"I began to pick up other condiments as well. I stopped at a variety of locations in order to gather new types of condiments," he wrote. "It was around this time that I discovered how many different condiment packets existed. A collector by nature, the only logical thing for me to do was attempt to get every different packet design I possibly could."
The condiment packets featured on the site are all devoid of their contents. Harne painstakingly slices open each packet, squeezes out the substance, and gives it a thorough cleaning.
"I then wait until the packets are completely dry before I place them in baseball card cases to preserve them cleanly and safely for many generations."
On the site's collection criteria page, Harne lists exactly what to expect from the gallery. He will only include small, "squeezable, tear-off-the-corner packets" and does not collect any sort of spices, salt, pepper, etc.
"If two packets are only slightly different, i.e., font variation on ingredient list, then both count separately for the collection," he writes. He's gotten good at spotting differences. Take this one. I couldn't spot all the differences, but I've never looked at ketchup that closely.
And then, somewhere along the way, the Gallery expired. The site's most recent update appears to have been made in January 2005, with the exciting additions of "Two more packets of Miracle Whip! And yet another new variation of 'Cookies' barbeque sauce."
It's taken an eight-year hiatus. And just last month, the Gallery went offline—only to resurface weeks later. The site and its disappearance are shrouded in mystery. What happened? Did Harne simply decide it was time to move on?
He won't return my emails. Maybe he's questioning my sanity. After all, I'm writing a piece on ketchup packets.
The Condiment Packet Gallery is separated into two easily navigable sections. Visitors may browse Harne's collection by condiment type ("chopped onion" and "duck sauce" have their own listings) or by brand name. There is even a special section for "Taco Bell Packet Sayings."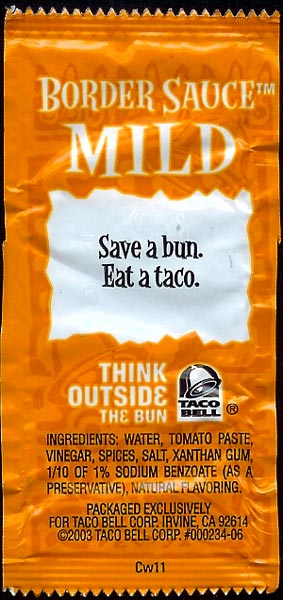 Saucy.
Harne credits his family members and friends for his collection's growth. There is even an official submission page for visitors to mail packets to Harne for possible inclusion in the gallery. Since the site has not been updated in almost a decade, however, there's no way to confirm that Harne will indeed receive the packet of Gulden's Mustard from Hot Dog on a Stick that you mailed to his home.
Like almost any art gallery or museum, there is a gift shop. Instead of souvenir postcards featuring some of the condiment packet varieties, however, the gift shop is a CafePress site selling mostly apparel. While the Condiment Packet Gallery beer stein is oddly useful, I wonder how many people would jump at the chance to own a bright yellow shirt stating "I am Chris Harne."
Maybe I'm being pessimistic. On the Internet, where records of our long-forgotten obsessions never really disappear, the Condiment Packet Gallery is a monument to the fleeting impulses that define us.
We are all Chris Harne.
All photos via The Condiment Packet Gallery