Model, cookbook author, and TV personality Chrissy Teigen deleted her Twitter account last night, ending her reign as one of the most ubiquitous celebrities on the platform.
With 13.5 million followers on Twitter, Teigen was popular due to her funny and prolific posting. She actually used the platform like a normal person, sharing genuine opinions and personal experiences rather than filtering things through a social media team like many well-known celebrities. But in recent months, she began to draw more criticism for seeming out of touch. Last month, Teigen shared a wildly unrelatable story about accidentally spending $13,000 on a bottle of wine. Rather than laugh at an anecdote about a goofy mistake, people were grossed out by this level of frivolous wealth when many others are in dire financial straits. Teigen had also received more serious harassment from other angles.
Bidding farewell to Twitter on Wednesday, Teigen wrote, "Hey. For over 10 years, you guys have been my world. I honestly owe so much to this world we have created here. I truly consider so many of you my actual friends."
"But it's time for me to say goodbye," she continued. "This no longer serves me as positively as it serves me negatively, and I think that's the right time to call something."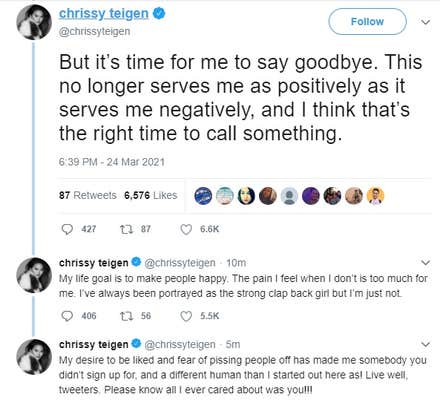 Her account has now been deleted. If you search for her name now, a lot of the top tweets are people making fun of her.
Others, however, asked what Teigen really did to deserve this.
People are also suggesting that Teigen's exit is a bad look for Twitter. As Bloomberg reporter Kurt Wagner points out, Teigen was a "power user" with a massive fanbase, and she spoke at Twitter's company retreat last year. Twitter is central to her brand, but she found the platform so toxic that she chose to delete her account.
Along with the jokes about her wealth, Teigen faced far more disturbing harassment due to the Pizzagate conspiracy theory, along with cruel backlash after she experienced a miscarriage. "Getting teased for being rich" is probably a drop in the ocean compared to the amount of negative attention she received from other angles.
This is a common experience for high-profile women of color on the site. Even as a celebrity with personal connections at Twitter HQ, Teigen still wasn't immune to harassment. Meanwhile, there are plenty of popular, verified accounts still posting hate speech on the platform. This situation highlights an ongoing problem with Twitter: The more popular and visible you are, the more harassment you attract—often with little protection.
---
More essential culture reads
---