Minnesota Vikings punter Chris Kluwe might have just coined our favorite new insult: "spiteful dickweeds."
Kluwe, who is arguably the Internet's favorite NFL player and a noted pro-gay rights advocate, assailed a parade in Southern California late Monday for excluding the gay community from participating.
The parade in question is the Tet parade, an annual Vietnamese tradition. This year's organizers asked LGBT groups to "sacrifice" and not to march in it.
"Sad to see that for every couple steps we take forward, there's still a step back," tweeted Kluwe, with a link directed to a Facebook event protesting the parade.
He launched into a series of tweets criticizing those who discriminate against the gay community and, in doing so, further established himself as one of the top-tier professional athletes who are loudly vocal about gay rights.
"Honestly, I'm not much of a parade person, but does it mean that much to you that you have to discriminate against people?" he asked. He continued: "Also, today's discriminators would be wise to remember that they were yesterday's discriminatees."
Kluwe also addressed the commonly used retort, "Why are you so intolerant of my intolerance?"
"Because one results in people being enslaved to someone else, whereas the other results in people being free to live their own life," exclaimed Kluwe before unfurling this masterpiece of an ending: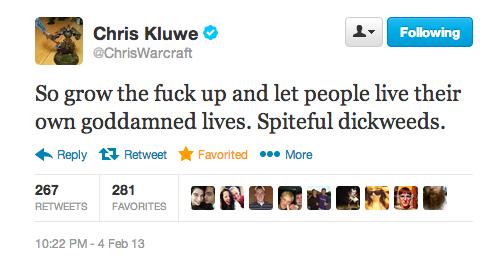 The Kluwe has spoken.
Photo via Joe Bielawa/Flickr