Update: One of Chris Brown's representatives told GossipCop that the Instagram post was fabricated and that the singer is not currently on the photo sharing social network.
The Internet's favorite douchebag, Chris Brown, has made his Instagram account private after posting a text-filled photo of him complaining about the hate he's received recently.
On Tuesday Brown received a "19-page report from the Los Angeles District Attorney's office claiming that the R&B singer did not complete his community service requirement" stemming from his brutal assault on then-girlfriend Rihanna in 2009, the New York Post reported. As a result of not fulfilling the requirement, Brown's probation may be revoked.
"Im wise I can handle the hate but enough is enough yo!!" Brown wrote in a screengrab he posted on Instagram, which has since been deleted. "I'm a human being and I honestly think I deserve respect I'm sick of being accused. I'm Tired. y'all just don't understand."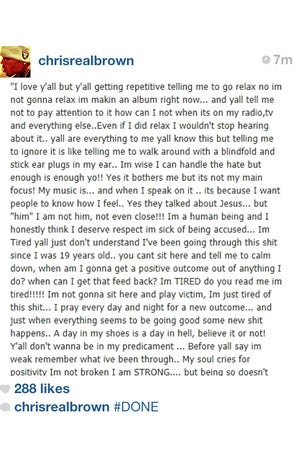 Over the past four months, Brown has deleted or deactivated his Twitter and Instagram at least two times because of criticism he's received. 
The most recent instance occurred on Nov. 25, when Brown deleted his popular Twitter account after comedian Jenny Johnson called the singer a "worthless piece of shit," and other things, on Twitter. He ultimately reactivated his account about a week later and has not stopped feeling sorry for himself.
On Jan. 29, Brown posted a photo on Instagram of a painting of Jesus on the cross and the message, "Focus on what matters!" He turned his account private shortly after the photo made national news. 
Let's hope this time around, he doesn't reactivate his account. Better yet, maybe he'll just stop using the Internet all together.
Photo by joeltelling/Flickr