Not much is known about Cory and Brooks, the two kids who spent much of 2012 throwing a giant middle finger to the Surgeon General, but what we do know is that they're both entirely too young to consume the amount of tobacco products they review on YouTube.
The two boys, who look and talk like brothers, wear hats that would suggest that they're from Alabama. They spent the better part of the last year compiling 24 videos that find them smoking cigarettes and reviewing various brands of chewing tobacco. 
One video, the 8-month-old "review on newport menthol 100s," recently picked up more than 32,000 views this afternoon after judgmental redditors came across the video on the subreddit r/cringe.
Update: Bwooks Alday's YouTube account was down Tuesday morning.
"I don't agree with smoking, but I'm addicted," offers Brooks, who admitted to spending part of last summer on probation. "That's pretty damn sad, but just don't get caught up in shit like that. The best thing to do is to stay away from cops and keep it on the fucking low. I don't support smoking. I do smoke."
Other worthwhile clips find Cory and a buddy offering their opinions on the combination of "coke a cola" and dip, and this 2011 video that finds Brooks recounting his first dips. 
"Then I got me some peach Skoal," he says. "I just finished that today. It's my favorite Skoal so far."
The videos are at the precipice of YouTube's underage dip scene, which is more robust than Big Tobacco would probably like to admit and has surely been the source of a number of fights between parents and children. There are tons and tons of these videos on YouTube—just search "kids dipping" and start rolling through—and none of them make the endeavor look too appetizing. 
For those wondering, YouTube's Community Guidelines prohibit people from posting videos that show "bad stuff like … under-age drinking or smoking," and it's taken issue with the actions before. In 2011, the site removed a video of a young kid reviewing a tin of Copenhagen Extra Long Cut in front of a Confederate flag because it violated YouTube's Terms of Service. The same could be said for Cory and Brooks's videos.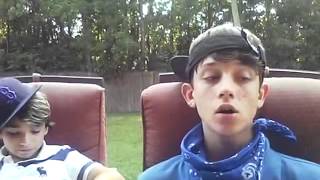 We reached out to the two kids for comment, but they never got back. 
Photo via Bwooks Alday/YouTube